"¿Por qué Uruguay?" I asked the Armenian restaurateur why he had moved to Montevideo.
He winked at me and smiled. "Por amor."
Clearly, he was a 'Romantic' as defined by InterNations in their second annual Expat Insider survey, updated for 2015. The expat organisation surveyed 14,000 of its 1.8 million members from around the world to assess the living situations and wellbeing of expatriates. With this wealth of quantitative and qualitative data, they defined 10 specific types of expats as shown in the infographic below.
Interestingly, less than 10% of expats are like our Armenian restaurateur who relocated in the name of love. If I look at a cross-section of my own friends, one (maybe two) out of 20 left behind their home country for love. The others are evenly distributed across the other nine categories.
Kia and I have never made such a big move. We have been working and living abroad for over a year and will be away for a few more months to come but we still pay our taxes in the UK and call it home. If we were to make the final plunge, I guess we would fall into the "greener pastures" category as we would be self-employed and the cost of living would likely be our primary consideration before relocating.
Naturally, the 10 categories are not 100% inclusive – there will always be people who don't fit neatly into one – but considering the size of the survey, it is the most representative data we have. Which type of expat are you? Or, if you haven't yet taken the plunge, which would you likely be in the future?
10 types of expat
Click image for larger version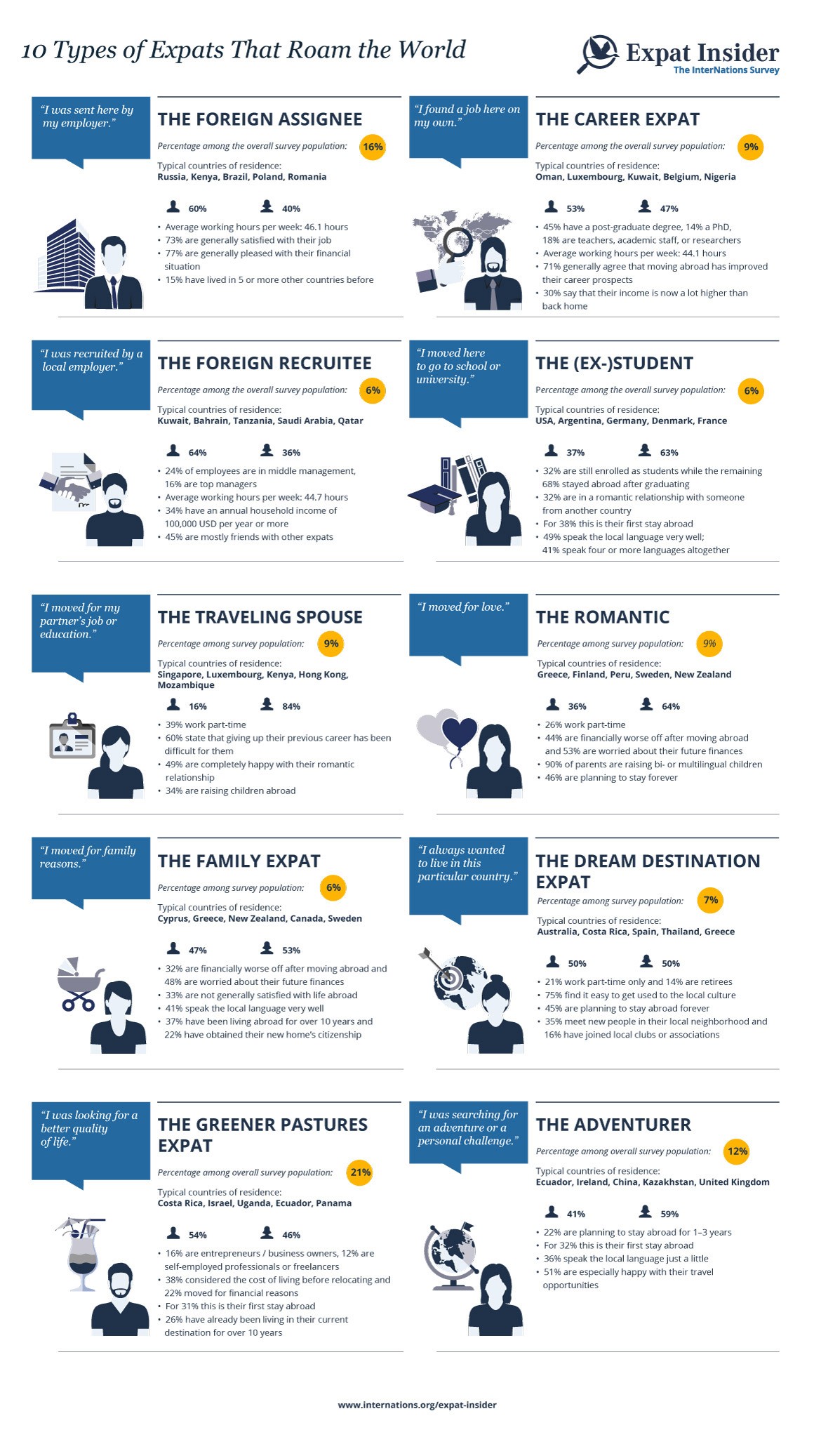 Download the full Expat Insider 2015 report.
(Lead image: Dreamstime.com)