A list of essential information about Djibouti, including language, currency, visa requirements, time zone, dialling code and emergency numbers.
Djibouti Essentials
Language: Arabic, French, Somali, Afar
Currency:  Djiboutian franc (DJF) – check latest exchange rates on xe.com
Visas: All visitors, including French nationals, require a visa to enter Djibouti. Most can be obtained on arrival but letters of invitation from a hotel (along with proof of booking) is required. To obtain a visa beforehand can be a long and arduous process. Visas can be obtained at the Djiboutian embassy in Addis Ababa in a day, if you're in Ethiopia before you visit. See visa requirements for more details.
Time zone: East Africa Time EAT (UTC+3)
Dialling code: +253
Emergency codes: 18 (all emergencies)
Capital city: Djibouti City
Population: 942,333
Electricity: 220V, 60Hz AC. Djibouti uses the below AC power plug and socket – generally with two round pins. We recommend the OREI travel adaptor. It works in over 150 countries and includes a USB charger.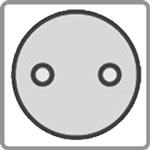 Insurance: We recommend travel insurance from WorldNomads.com – available in over 150 countries.
---
GET OUR BEST TRAVEL ADVICE IN ONE HANDY BOOK
Don't Offer Papaya: 101 Tips for Your First Time Around the World
available in paperback and on Kindle on Amazon from $3.99
Through personal anecdotes mixed with succinct travel advice, we tell you everything you need to know about life on the road, from mind-hacking taxi drivers into accepting your fare to the number one rule for not looking like a douche.