We look at the most stressed countries in the world according to Gallup's latest survey. The results may well surprise you
How did you feel yesterday? Did you feel physical pain? Experience enjoyment? Worry? Anger? What about stress?
These are the questions put to 151,000 adults in 142 countries across the world as part of the Gallup Global Emotions Report, which measures life's intangibles – feelings and emotions – that traditional economic indicators such as GDP were never intended to capture.
The report creates a number of indexes, ranking countries by the percentage of people who answered 'yes' to a particular question. The resulting data allows us to rank and examine the most stressed countries in the world.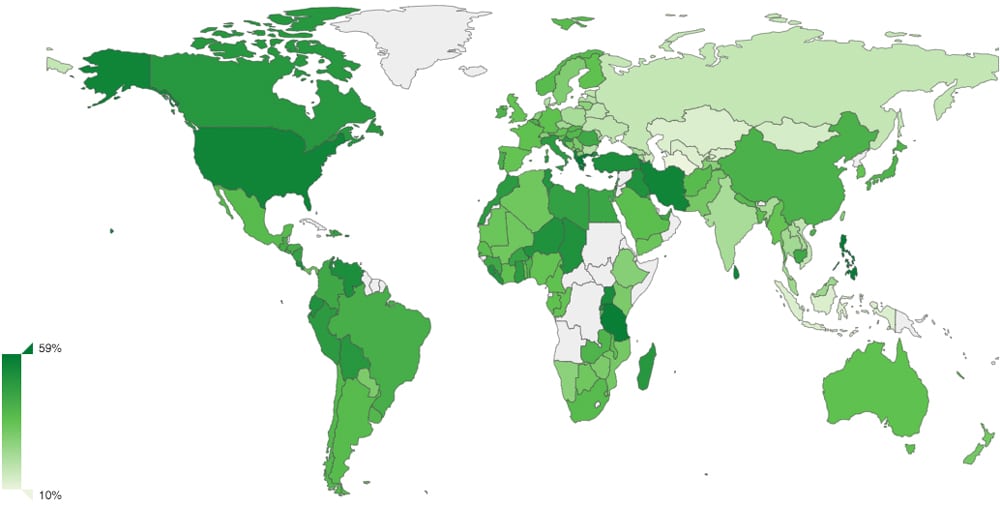 The results are somewhat surprising. Global studies and indexes such as the World Happiness Report frequently rank sub-Saharan African countries poorly while Nordic countries usually rank well. Other consistent high performers are the European nations along with the likes of Canada, Singapore, Australia and New Zealand.
These reports typically imply that the richer the country, the better the quality of life. Likewise, there is usually a strong correlation between poverty and unhappiness.
This trend, however, does not seem to apply when it comes to stress. For the third consecutive year, Greece has been named the most stressed country in the world with 59% of those surveyed saying they experienced a lot of stress during the previous day. Another surprise in the top 10 is the USA in seventh place with 55%.
The 10 most stressed countries
Globally, more than one in three people (35%) said they experienced a lot of stress during the previous day.
Greece, 59%
Philippines, 58%
Tanzania, 57%
Albania, 55%
Iran, 55%
Sri Lanka, 55%
USA, 55%
Uganda, 53%
Costa Rica, 52%
Rwanda, 52%
Most stressed countries: complete ranking
The table below shows the percentage of interviewees who answered yes when asked, 'Did you experience stress during a lot of the day yesterday?'
| Rank | Country | 'Yes' |
| --- | --- | --- |
| 1 | Greece | 59% |
| 2 | Philippines | 58% |
| 3 | Tanzania | 57% |
| 4 | Albania | 55% |
| 5 | Iran | 55% |
| 6 | Sri Lanka | 55% |
| 7 | USA | 55% |
| 8 | Uganda | 53% |
| 9 | Costa Rica | 52% |
| 10 | Rwanda | 52% |
| 11 | Turkey | 52% |
| 12 | Venezuela | 52% |
| 13 | Chad | 51% |
| 14 | Cyprus | 51% |
| 15 | Ecuador | 51% |
| 16 | Iraq | 51% |
| 17 | Niger | 51% |
| 18 | Palestinian Territories | 51% |
| 19 | Sierra Leone | 51% |
| 20 | Liberia | 50% |
| 21 | Tunisia | 50% |
| 22 | Bolivia | 49% |
| 23 | Canada | 49% |
| 24 | Madagascar | 49% |
| 25 | Croatia | 48% |
| 26 | Ghana | 48% |
| 27 | Italy | 48% |
| 28 | Morocco | 48% |
| 29 | Peru | 48% |
| 30 | Dominican Republic | 46% |
| 31 | Lebanon | 46% |
| 32 | Libya | 46% |
| 33 | Nicaragua | 46% |
| 34 | Burkina Faso | 45% |
| 35 | Egypt | 44% |
| 36 | UAE | 44% |
| 37 | Cambodia | 43% |
| 38 | Colombia | 43% |
| 39 | El Salvador | 43% |
| 40 | Guinea | 43% |
| 41 | Romania | 43% |
| 42 | Guatemala | 42% |
| 43 | Haiti | 42% |
| 44 | Brazil | 41% |
| 45 | Honduras | 41% |
| 46 | Kuwait | 41% |
| 47 | Portugal | 41% |
| 48 | Belgium | 40% |
| 49 | Benin | 40% |
| 50 | China | 40% |
| 51 | Burundi | 39% |
| 52 | Ireland | 39% |
| 53 | Japan | 39% |
| 54 | Zambia | 39% |
| 55 | Chile | 38% |
| 56 | Hungary | 38% |
| 57 | Israel | 38% |
| 58 | Malta | 38% |
| 59 | Slovakia | 38% |
| 60 | Uruguay | 38% |
| 61 | Afghanistan | 37% |
| 62 | Argentina | 37% |
| 63 | Comoros | 37% |
| 64 | Mexico | 37% |
| 65 | Nepal | 37% |
| 66 | Northern Cyprus | 37% |
| 67 | Norway | 37% |
| 68 | South Africa | 37% |
| 69 | Bangladesh | 36% |
| 70 | Luxembourg | 36% |
| 71 | Malawi | 36% |
| 72 | Saudi Arabia | 36% |
| 73 | Senegal | 36% |
| 74 | Australia | 35% |
| 75 | Cameroon | 35% |
| 76 | Cote d'Ivoire | 35% |
| 77 | Finland | 35% |
| 78 | France | 35% |
| 79 | Gabon | 35% |
| 80 | Germany | 35% |
| 81 | Togo | 35% |
| 82 | Austria | 34% |
| 83 | Congo (Republic of) | 34% |
| 84 | Myanmar | 34% |
| 85 | Nigeria | 34% |
| 86 | Slovenia | 34% |
| 87 | South Korea | 34% |
| 88 | Spain | 34% |
| 89 | UK | 34% |
| 90 | Gambia | 33% |
| 91 | Kosovo | 33% |
| 92 | Mauritania | 33% |
| 93 | Panama | 33% |
| 94 | Yemen | 33% |
| 95 | Algeria | 32% |
| 96 | Bosnia & Herz. | 32% |
| 97 | Botswana | 32% |
| 98 | Mali | 32% |
| 99 | Eswatini (Swaziland) | 32% |
| 100 | Mozambique | 31% |
| 101 | New Zealand | 31% |
| 102 | Pakistan | 31% |
| 103 | Kenya | 30% |
| 104 | Montenegro | 30% |
| 105 | Netherlands | 30% |
| 106 | Paraguay | 30% |
| 107 | Serbia | 30% |
| 108 | Zimbabwe | 30% |
| 109 | Macedonia | 29% |
| 110 | Singapore | 29% |
| 111 | Sweden | 29% |
| 112 | Ethiopia | 28% |
| 113 | Switzerland | 28% |
| 114 | Taiwan | 28% |
| 115 | Tajikistan | 28% |
| 116 | Lithuania | 27% |
| 117 | Namibia | 27% |
| 118 | Mauritius | 25% |
| 119 | Malaysia | 24% |
| 120 | Czech Republic | 23% |
| 121 | Thailand | 23% |
| 122 | Georgia | 22% |
| 123 | India | 22% |
| 124 | Lao | 22% |
| 125 | Poland | 22% |
| 126 | Armenia | 21% |
| 127 | Moldova | 21% |
| 128 | Bulgaria | 20% |
| 129 | Denmark | 20% |
| 130 | Latvia | 20% |
| 131 | Belarus | 18% |
| 132 | Estonia | 18% |
| 133 | Ukraine | 18% |
| 134 | Vietnam | 18% |
| 135 | Russia | 17% |
| 136 | Azerbaijan | 15% |
| 137 | Mongolia | 14% |
| 138 | Indonesia | 13% |
| 139 | Kazakhstan | 13% |
| 140 | Kyrgyzstan | 13% |
| 141 | Uzbekistan | 13% |
| 142 | Turkmenistan | 10% |
---