Before I quit my job to travel, I worked at roughguides.com for two years and, before that, as Features Editor at Asian Woman and Asian Bride magazines. During this time, I noticed some common themes and phrases emerge in the travel writing I read: diners always enjoyed "hearty fare", cabins were always "nestled among" something, and seas always comprised "azure waters" (that last one I'm guilty of myself).
Far less often, I came across writing that offered a rawer insight into the travel experience – and it was always refreshing when I did. In reality, travel isn't always amazing. Sometimes, it's downright disappointing but we rarely admit to this. Here are five truths travel writers don't like to tell you.
"That place I visited was a bit crap"
Travel writers are paid to sell a dream, whether it's of vivid Grecian seas or bleak Icelandic landscapes. Their pieces speak of vibrant markets full of clashing colour, of charming street urchins peddling their wares, of elderly gentlemen dozing on porches. They paint a desirable picture with an aim to inspire you to go there, or at the very least to want to go there – after all, why cover a destination only to tell readers to avoid it?
On the rare occasions it does happen (like this piece on Marrakesh), it's not only refreshing but far more informative and entertaining than a superlative-laden love letter. Often, you'll find the truth more readily told by bloggers (like in this piece on Vietnam) as they are generally unshackled by a need to maintain relationships with tourist boards and tour companies.
A notch above this is what I call the 'Bear Grylls Treatment'. This is where a writer manufactures tension to add drama to his tale. 'Travels' by Michael Crichton is a classic example: In it, the late author talks of climbing Kilimanjaro, of navigating tiny African towns, camping near elephants and diving open seas as if they were life-threatening pursuits. In truth, Peter's done all those things and they were hard but not that hard.
"The people I met weren't that interesting"
Peter and I were sitting on a balcony overlooking Savusavu's azure waters (sorry, couldn't help myself). Dusk had fallen and the air held the smell of burning wood. It was one of those nights that called for few words so we sat and watched the waves in silence.
Soon, we were joined by a fellow backpacker – let's call him Mark – with whom we had the customary exchange (where we'd been, how long we'd been in Fiji, where we were heading to next). Upon hearing that we were off to Tonga, his eyes lit up. "Oh, you must visit 'Eua. I spent time with an amazing family there." He reached across and plucked up the South Pacific guide resting on the table. Thumbing through it, he turned to Tonga and then proceeded to give us a 40-minute lecture on where to go and what to see (including all the amazing village chiefs he met and the 'real' Tongans with whom he spent his time).
Our polite attempts at curbing the lecture fell on deaf ears until, finally, Peter stood up and said: "Wow, thanks, that's a lot of information. I'm starving so we'll probably get something to eat."
Travel writers insist that you'll meet "amazing people" on your travels but, sometimes, that just isn't true. In fact, most times, it's not true (unless your bar for 'amazing' is unusually low). We've met impressive people on our travels and we've met formidable people, but truly 'amazing' people are few and far between.
"I ignore my own advice"
Every employed travel writer will tell you to take malaria tablets when you're in a malarial country, to buy travel insurance, to pack a change of clothes in your hand luggage and so on and so forth. Well, back in 2010 when I visited Cambodia (and wrote an associated travel piece about it), I didn't take any malaria tablets despite travelling the length of the country. Here's what the malaria map for Cambodia looks like: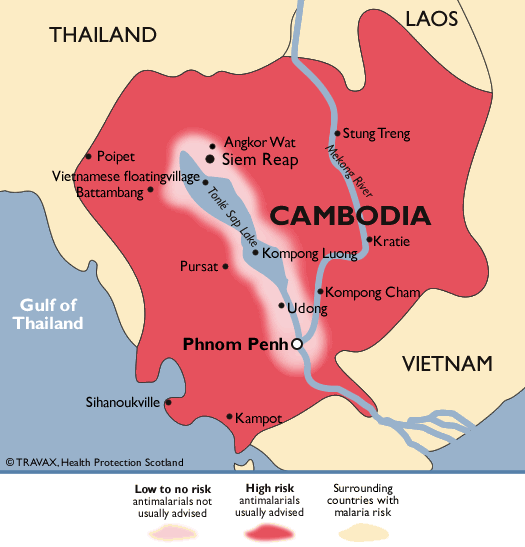 I was fine in the end, but the point is I didn't listen to my own advice. Equally, when Peter and I arrived at Samoa's Faleolo International Airport this week and were told that Fiji Airways hadn't loaded our backpacks, we were left with only the clothes on our backs (and Peter didn't even have a toothbrush). This is contrary to what every experienced traveller – including us – will tell you. What we won't tell you is that we get complacent. We leave our passports in our backpacks instead of the hostel safe, we don't always split our cash and, often, we assume that our luggage will arrive safely.
"Sometimes I'd rather just pootle about on my laptop"
Okay, aside from the fact that no-one says 'pootle' anymore, it's true that sometimes we just want to sit indoors and get a fix of Facebook or Twitter or Buzzfeed. Even when we've spent 17 hours on a boat to get to a remote bay that looks like heaven itself, we want to sit indoors and get a fix of Facebook. When the luscious green trees stir in the wind and the white sands sweep with the sweetest of echoes, we want to sit indoors and get a fix of Facebook. Basically, we all want to be online some of the time – more carpe dongle than carpe diem.
"I'm wearing my knickers inside out"
"What are you going to do about WASHING?" read the text from my little sister, adopting capitals to portray that so-impossible task. "Erm, what I do at home: wash my clothes once a week," I tapped back. Oh, the optimism and naiveté. Every week? In reality, I'm too busy exploring caves, climbing volcanoes and sailing through heaven (and, yes, pootling on my laptop). Every week just isn't practical especially when you're dealing with shared bathrooms of dubious hygiene. As such, some compromises have to be met once in a while. Not all the time, mind, but sometimes…
---