We share the best adventure travel books 2021 and explain why each should be on your reading list
From a cross-country road trip in a hostile America to boundless sand dunes in remote China, our crop of adventure travel books 2021 have one thing in common: their journeys are more than just physical.
There are tales of derring-do, but beyond the sparkly appeal of adventure are stories of recovery, rebirth and the healing power of nature.
In Nepal, one man re-attempts Everest after a lethal earthquake. In the UK, another walks back from the brink of suicide while, in the US, a woman emerges from a three-year battle with leukaemia.
Ultimately, these are tales of not just exploration and adventure but of courage, curiosity, resilience and hope.
Adventure travel books 2021
Our top adventure travel books 2021 are listed in order of publication date along with links to Amazon and Goodreads.
Love Is an Ex-Country
by Randa Jarrar
2nd Feb
Amazon | Goodreads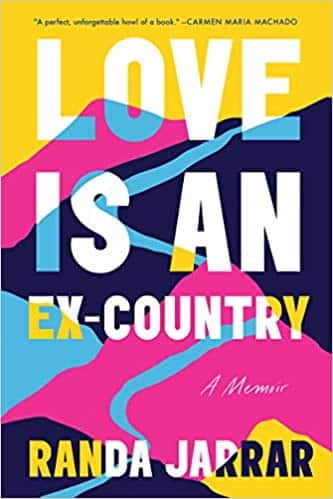 In this memoir of a cross-country road trip, author Randa Jarrar charts her journey from California to Connecticut as a queer, Muslim, Arab American, proudly fat woman.
Reclaiming her autonomy after experiencing domestic assault both as a child and an adult, Jarrar explores how to find joy in a hostile America. Along the way, she encounters a rest-stop racist, destroys Confederate flags in the desert and visits the Chicago neighborhood where her immigrant parents first lived.
A story of domestic violence, single motherhood, sexuality and resilience, Love Is an Ex-Country offers a look at America from a rarely shared perspective.
Between Two Kingdoms: A Memoir of a Life Interrupted
by Suleika Jaouad
9th Feb
Amazon | Goodreads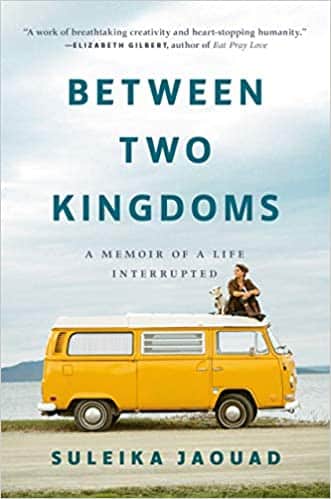 In the summer after graduating from college, Suleika Jaouad moved from New York to Paris to pursue her dream of becoming a war correspondent – but life had other plans.
It started with an itch, first on her feet, then up her legs. Next came the exhaustion and the six-hour naps that only deepened her fatigue. Then a trip to the doctor and, a few weeks shy of her 23rd birthday, a diagnosis: leukaemia with a 35% chance of survival.
When Jaouad finally walks out of the cancer ward – after three and a half years of chemo, a clinical trial and a bone marrow transplant – she is 'cured'. She and her new best friend, Oscar, a scruffy terrier mutt, set out on a 100-day, 15,000-mile road trip to find healing of a different sort.
Winter Pasture: One Woman's Journey with China's Kazakh Herders
by Li Juan, Jack Hargreaves
23rd Feb
Amazon | Goodreads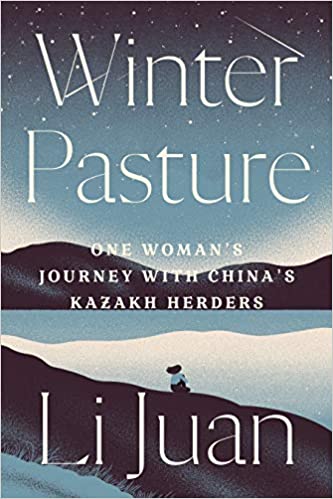 Li Juan and her mother own a small convenience store in the Altai Mountains in Northwestern China. One day, she decides to join a family of Kazakh herders as they take their 30 boisterous camels, 500 sheep and 100 cattle and horses to pasture for the winter in a remote region stretching from the Ulungur River to the Heavenly Mountains.
As she journeys across the vast, seemingly endless sand dunes, she herds sheep, rides horses, chases after camels and builds an underground home with manure.
With humility and a healthy dose of self-deprecating humour, Li vividly captures both the extraordinary hardships and the day-to-day preoccupations of the men and women struggling to get by in this desolate landscape.
A Walk from the Wild Edge
by Jake Tyler
18th Mar
Amazon | Goodreads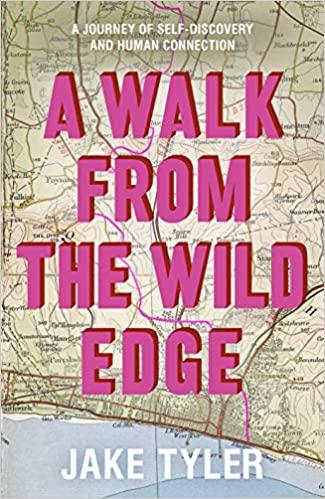 After coming terrifyingly close to suicide, Jake Tyler was determined to take back control of his life from the clutches of depression.
With only a pair of walking boots and a backpack, he left his home town of Maldon and began a 3,000-mile walk around the British mainland. In documenting every step of his adventure, Tyler shares the ways in which his road to recovery was enhanced by the kindness of strangers who helped him to better understand himself and the power of human connection.
This is the story of Tyler's lap around the UK and his journey to finding peace with himself and the world around him.
The Bears Ears: A Human History of America's Most Endangered Wilderness
by David Roberts
23rd Mar
Amazon | Goodreads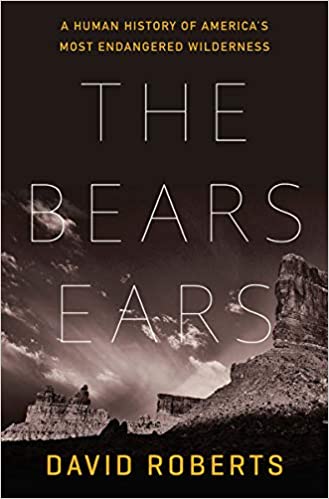 Bears Ears National Monument in Utah, created by President Obama in 2016 and eviscerated by the Trump administration in 2017, contains more archaeological sites than any other region in the US. It's also a spectacularly beautiful landscape of sandstone canyons and bold mesas and buttes.
Sadly, this wilderness is now threatened by oil and gas drilling, unrestricted grazing and invasion by Jeep and ATV. In fact, it's said to be at the centre of the greatest environmental battle in America since the damming of the Colorado River to create Lake Powell in the 1950s.
Weaving personal memoir with archival research, writer David Roberts takes readers on a tour of his favourite place on Earth and explains why it's so important to protect the Bears Ears.
The Third Pole: Mystery, Obsession, and Death on Mount Everest
by Mark Synnott
13th Apr
Amazon | Goodreads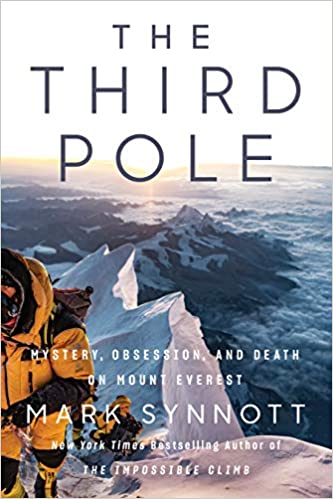 On 8th June 1924, George Mallory and Andrew "Sandy" Irvine set out to reach the summit of Everest where no human had stood before. A century later, we still don't know if they made it.
In 2019, climber Mark Synnott made his own ascent of Everest in pursuit of the Kodak camera that Irvine carried with him.
Synnott's quest led him from archives and museums in England to Kathmandu, the Tibetan High Plateau and up the infamous north face of the mountain into a storm during a season described as the one that broke Everest. An awful traffic jam of climbers at the very summit resulted in tragic deaths. Sherpas revolted. Chinese government agents turned adversarial. An Indian woman crawled her way to safety.
Synnott himself went off the safety rope – if he had slipped, no one would have been able to save him – desperate to solve the mystery. The Third Pole charts his extraordinary journey.
Next Everest, The: Surviving the Mountain's Deadliest Day and Finding the Resilience to Climb Again
by Jim Davidson
22nd Apr
Amazon | Goodreads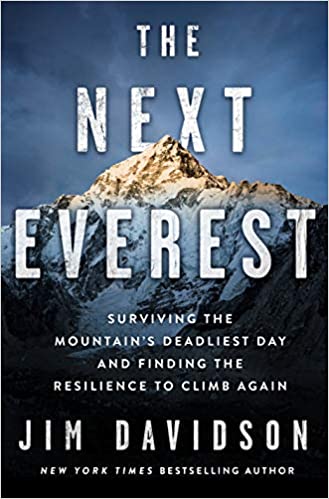 On 25th April 2015, climber Jim Davidson was on Mount Everest when a 7.8 magnitude earthquake released avalanches all around him and his team, destroying their only escape route and trapping them at around 6,000m (20,000ft).
It was the largest earthquake in Nepal in 81 years and killed nearly 8,900 people. That day became the deadliest in the history of Everest with 18 people losing their lives on the mountain.
After two unsettling days stranded on the mountain, Davidson's team was rescued by helicopter. The experience left him wondering if, after 33 years of climbing, he would ever go back. Next Everest charts the disaster and Davidson's return to the mountain despite the risk and uncertainty.
I Belong Here
by Anita Sethi
29th Apr
Amazon | Goodreads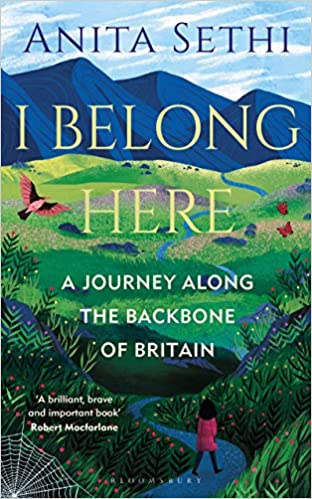 Anita Sethi was on a journey through Northern England when she became the victim of a racist verbal assault. After the event, panic attacks, anxiety and a crushing sense of claustrophobia made Sethi long for wide open spaces.
The Pennines, known as 'the backbone of Britain', called to her with magnetic force. Although the racist had told her to leave, Sethi was compelled to further explore an area that she regards as home.
Sethi's journey through the natural landscapes of the north is one of reclamation; a way of saying that this is her land too and she belongs in the UK as a brown woman, as much as a white man does. Her journey transforms what began as an ugly experience into one of hope and beauty.
Bicycling with Butterflies: My 10,201-Mile Journey Following the Monarch Migration
by Sara Dykman
1st May
Amazon | Goodreads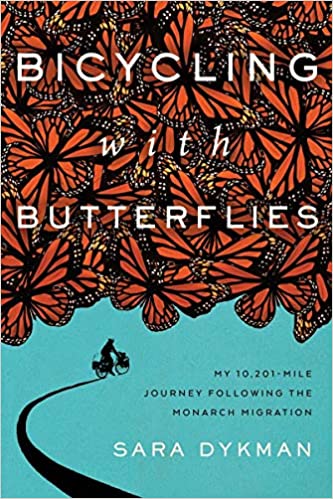 In 2017, researcher Sara Dykman decided to do something no one had ever done before: pedal along with monarch butterflies over the entire length of their 10,201-mile migratory journey. She did it alone, on a hand-built bicycle, through Mexico, the US and Canada.
In Bicycling with Butterflies, we follow her through a Midwestern thunderstorm, a field of zombie corn and multiple trips across the border, and meet an interesting cast of devoted citizen scientists, skeptical bar patrons, farmers and fellow bicyclists.
Told with grace and humility, Bicycling with Butterflies deftly combines memoir, travel and popular science to highlight the urgency of saving the monarchs. Though sobering, it's ultimately an uplifting story filled with optimism, energy and hope.
Into the Deep: An Explorer's Life
by Robert D Ballard, Christopher Drew
10th Jun
Amazon | Goodreads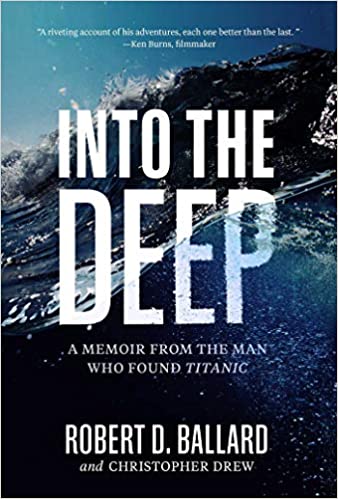 Adventurer Robert Ballard is best known for finding the wreck of the Titanic, but has a lifetime of thrilling stories. In 1977, he discovered new extremophile life-forms thriving at 400°C (750°F) hydrothermal vents and in 1989 found the wreck of the Bismarck.
Now the captain of E/V Nautilus, a scientific exploration vessel rigged for research in oceanography, he leads a team of scientists as they map the ocean floor, collect artefacts from ancient shipwrecks, and relay live-time adventures from remote-controlled submersibles to reveal extraordinary sea life.
Now, for the first time, Ballard gets personal. In Into the Deep, he reveals how he went from a midwestern kid with dyslexia to an internationally renowned ocean explorer.
---
Enjoyed this post? pin it for later…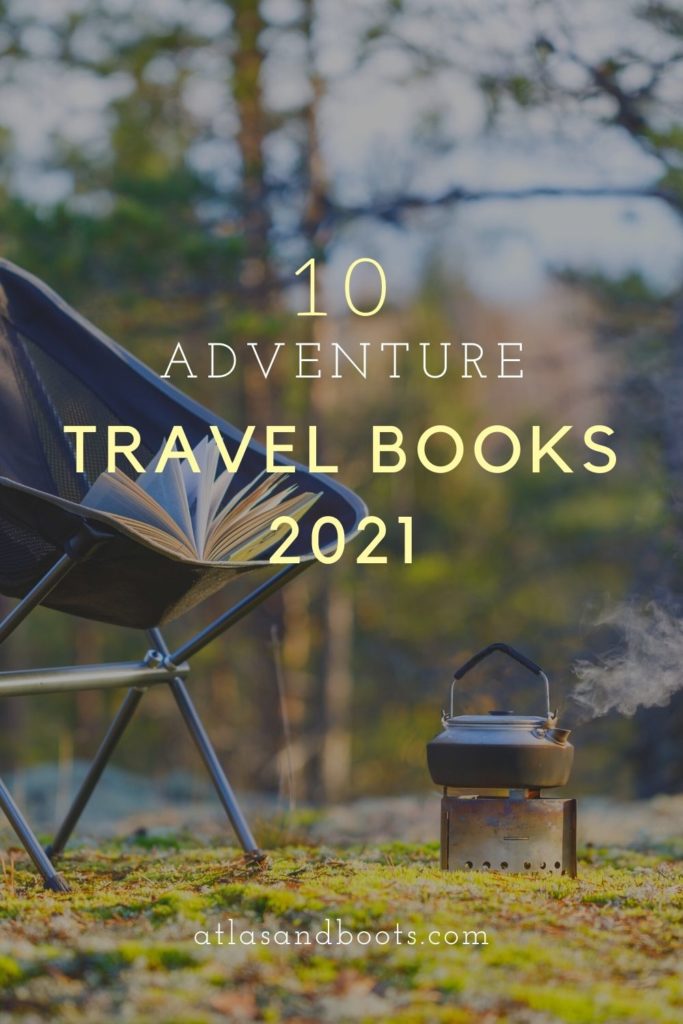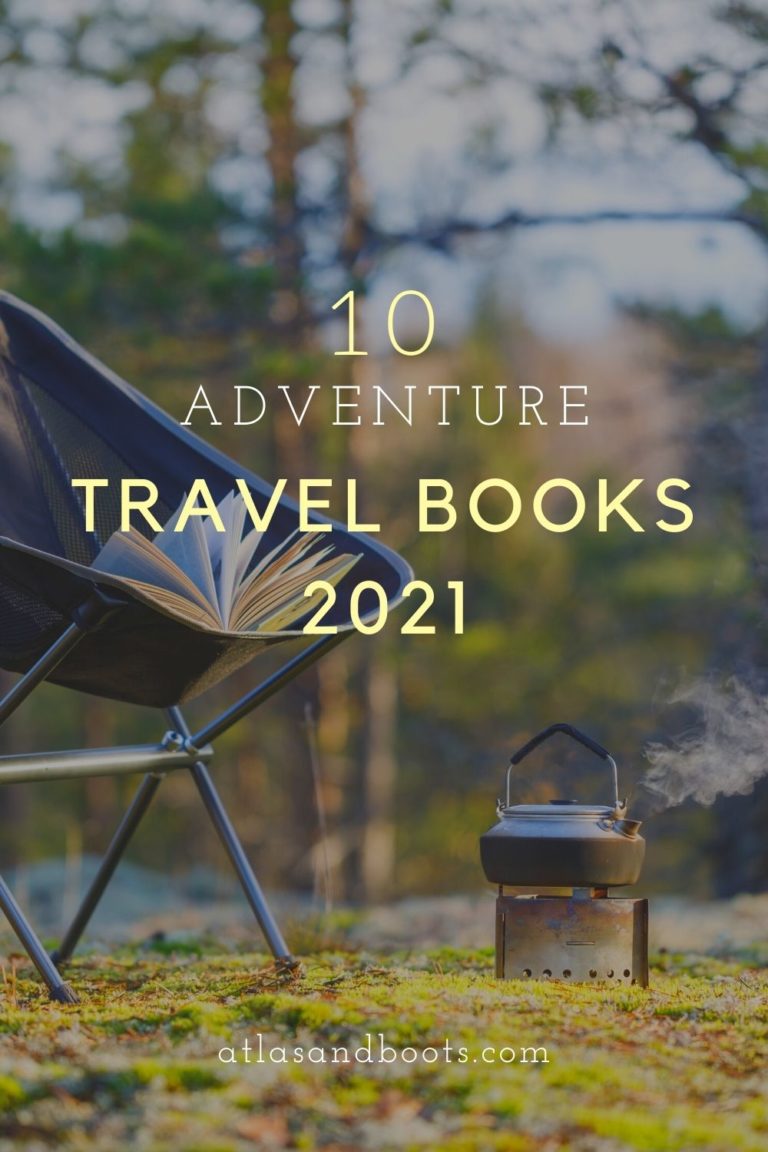 ---