So here we are: firmly in the midst of our trip of a lifetime. It's been exactly one month since we left London – one amazing month during which we swam beneath waterfalls, kayaked to desert islands, went diving for the first time, explored the depths of Millennium Cave and stared into the crater of an active volcano.
It's turned out to be far better and easier than I had predicted. Of course, there have been some backpacker problems I've struggled with – some expected and others not.
1. Not finding anything
"Okay, I finally admit it. I am indeed a Nerdlinger," I wrote to my old desk-mate with a copy of the below picture. As an organisation freak, I like punctuality, I like schedules and I like order. Under normal circumstances, I would unpack and organise everything as soon as I got to a new destination.
When constantly on the move, however, unpacking everything just isn't practical; you have to learn to live out of a backpack. And therein was the problem: I found myself constantly hunting for one thing or another until, eventually, much to Peter's amusement, I decided to name parts of my backpack and list what each contained.
Now, when I pack or unpack, I make sure I put things in their correct place making it far, far easier to find, use and store things. Yes, I'm a nerd but I'm a happy, organised nerd.
2. Smelling different
Okay, stop sniggering at the back – I don't mean that I smell bad; just different. I'm used to my particular toiletries: my shower gel, my body lotion, my shampoo, my perfume.
I packed small quantities of the things I need but when we hit the road I decided to use hotel-provided toiletries where possible to preserve my own supplies. Of course, that meant that I smelled of generic hotel toiletries, which was strangely disorienting.
I've since reverted to my own brands. I'll probably circle back to this problem once my supplies run out but hopefully I'll be accustomed to all the other changes by then, making this one a little less perturbing.
3. The prospect of slumming it
I've never been wild camping before and, before this trip, I had never stayed in a mixed dorm so I was a little worried about doing the backpacker circuit. I'm not particularly high maintenance but I do like warm showers and comfy beds, so I questioned if I'd have the mental nerve to handle 'real' backpacking.
My only solace came from the fact that, at 13, I had lived for a month in Bangladesh without electricity, running water and proper commode. Surely, if I did it then, I could do it now?
We haven't yet camped in the wild but we have stayed at places with some pretty basic facilities. To my surprise, I've handled them with little difficulty. It takes a shift in expectations but once that's done, slumming it can be surprisingly fun.
Pro tip: I was raised as a Muslim, which means we clean ourselves with water when nature calls, not just toilet paper. Large parts of Asia have bidets in public toilets, which is great but most of the world does not.
In the absence of a water jug, I use a fantastic little contraption called the Hygienna Solo. It's not the most ladylike thing to discuss in public, but it works so well I wanted to share it. I'm convinced the whole world will be using these in the future.
4. Being 'served'
I have an unofficial saying: clean your own toilet and you'll always stay humble. The idea is that you never grow too comfortable or too middle class to lose touch with those less fortunate than you.
I come from a working class family and have never felt comfortable around servile staff. It's not a problem when I'm slumming it (see above); it's more at upper range hotels where people run to open doors for you, or insist on carrying your drink from the bar to your table, or apologise profusely for making you wait a second-and-a-half. My insistence that 'no, no, no, it's fine' always feels like feigned magnanimousness.
A few times, we've returned to our room with housekeeping still in progress. On these occasions, I asked Peter if we could come back later or wait outside, as I felt uncomfortable relaxing in a room with people cleaning it for us. Luckily, he understands how I feel. I guess we'll have to slum it more often than not.
5. Sharing all our moments
I started a personal blog way back before I became a 'real' writer. The blog shared many highs, lows and insights into my life including marriage, divorce and bereavement.
At some point, I stopped sharing details about my relationships (divorce'll do that to you). As part of Atlas & Boots, however, Peter and I have been sharing pictures and videos of us together.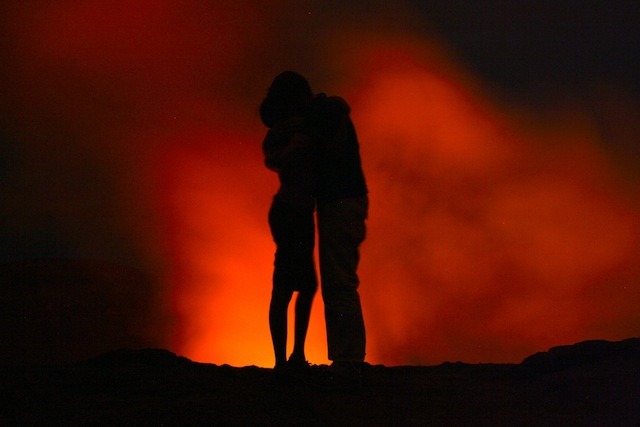 We created the blog to 1) give us an outlet for our writing and photography, 2) give our trip some focus, 3) make us more marketable to employers when we return ("we haven't just been bumming around for a year!") and 4) generate a small bit of income while on the road. Sharing quiet moments together is part of what makes a travel blog successful, but doing so has made me uncomfortable.
Despite my history of blogging, I share very few pictures on Twitter and don't accept Facebook requests from people I don't know 'in real life'. To suddenly start sharing our life in public feels strange.
6. Anti-malarials
Eh gads. Don't take Lariam. That is all.
7. Bugs
When Peter and I arrived in Vanuatu, I told him that I would practise 'Unagi' when faced with bugs. For those unfamiliar with the term, the following should help.
Unfortunately, despite being able to now handle spiders, I am still mortally afraid of bugs, so you'll understand my horror at coming across this little fella.
What you don't see on the video is that soon after we deposited him outside, another crept out a few feet from my bed, which proved far harder to catch. The South Pacific provides the perfect environment for all that creeps and all that crawls. Let's just say that I'm going through a period of adjustment. The Unagi will come soon… I hope.