Our tips for trekking to K2 base camp, gathered from the many questions our readers sent in
Before, during and after my K2 base camp trek in Pakistan, Atlas & Boots received dozens of questions about the experience via email and social media. We've collated them below in a comprehensive Q&A which includes all our tips for trekking to K2 base camp.
Tips for trekking to K2 base camp
Is Pakistan safe?
Pakistan has suffered from bad press for a while now. It would be remiss of me to suggest the country is without its problems; there are still areas of Pakistan where travel is not advisable. That said, the trekking trails of the Karakoram have long been trouble-free. Regardless, the region's trekking industry flatlined during the years following 9/11.
This is anecdotal, but during my time in Pakistan I never once felt in danger or worried about my safety. I felt more comfortable walking the streets in Pakistan than I did in several other South-Asian countries. I did not encounter touts like I did in India. Those who did approach me on the street were genuinely interested in talking to me as opposed to selling me something.
Pakistan's prime minister Imran Khan highlighted tourism as a main objective in his "100 day agenda" following the 2018 election. Initiatives have included increasing the availability of tourist visas, developing an online e-visa system, inviting the Royal Family for a state visit and recommencing direct flights to Islamabad (British Airways became the first European airline to do so in June).
I believe Pakistan is safe for travel and is finally ready to realise its potential as one of the world's premier trekking destinations.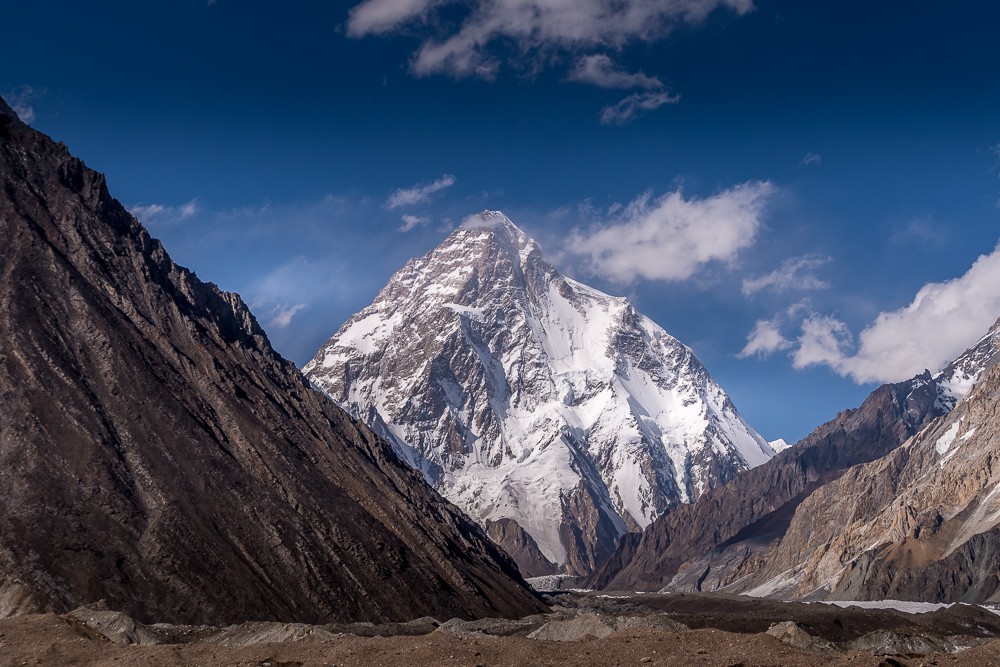 Which company did you trek with?
I joined Lost Horizon Tours and Treks on a trek to K2 base camp combined with a technical crossing of the Gondogoro La Pass.
How big was your group?
Our group had seven trekkers with a support team of 12 people including a lead guide, a cook, porters and mule men. The mules and their handlers do not cross the Gondogoro La Pass. It is reasonable to expect between four and 12 trekkers in your group.
How long does the trek take?
My itinerary was 21 days long, which included 14 days of trekking. Below is the trekking itinerary we followed, although it should be noted that all schedules come with a certain degree of flexibility.
| Day | From/to | Distance | Duration | Max Alt. |
| --- | --- | --- | --- | --- |
| 1 | Askole-Jhola | 20km | 6-8 hours | 3,159m |
| 2 | Jhola-Paiju | 21km | 6-8 hours | 3,383m |
| 3 | Paiju rest day | N/A | N/A | 3,383m |
| 4 | Paiju-Khobutse | 13km | 5-7 hours | 3,566m |
| 5 | Khobutse-Urdukas | 6km | 2-4 hours | 4,130m |
| 6 | Urdukas-Goro II | 11km | 5-7 hours | 4,250m |
| 7 | Goro II rest day | N/A | N/A | 4,250m |
| 8 | Goro II- Concordia | 12km | 4-6 hours | 4,600m |
| 9 | Concordia-K2bc-Concordia | 24km | 10-12 hours | 5,150m |
| 10 | Concordia-Ali | 13km | 5-7 hours | 5,000m |
| 11 | Ali rest day | N/A | N/A | 5,000m |
| 12 | Ali-Gondogoro- Khuispan | 12km | 15-17 hours | 5,560m |
| 13 | Khuispan-Saicho | 17km | 6-8 hours | 3,330m |
| 14 | Saicho-Hushe | 10km | 2-3 hours | 3,050m |
It should also be noted that distances and times vary significantly, depending on the condition of the trails and river crossings. The trails over the Baltoro Glacier are constantly changing as the ice shifts and crevasses open up.
It's also not unusual for rivers to swell to excessive levels or even wash away bridges. We were twice delayed due to swollen rivers.
Where does the trek start and finish?
The trek begins in the village of Askole and ends in the village of Hushe. The closest airport is in Skardu. If you don't cross the Gondogoro La Pass, then the trek starts and ends in Askole.
How do you get to the trailheads?
Travelling from Islamabad to Skardu can be done via an overnight drive (included) or by a short flight combined with a shorter 4WD drive. This saves a day of driving on either side of the trek. If trekkers choose the flight option, then budget an additional $150 USD each way.
To get from Skardu to the trailheads at Askole and Hushe, a transfer in a 4WD vehicle is necessary. Both journeys take around six hours.
How hard is the trek?
The trek is challenging. The absence of proper trails and the loose moraine and scree on the Baltoro Glacier can make it laboriously slow at times. Additionally, you'll be camping on the glacier for at least four nights, which is significantly colder than sleeping on rock or grass.
I met a range of trekkers on the trail from teenagers to retirees, so it is possible for people of all ages. However, I would not recommend this as your first high-altitude trek.
How much does it cost?
Prices start from around $2,000 USD, depending on dates and itinerary, for a round trip from Islamabad. The price includes all accommodation, all meals on the trek, an English-speaking local guide and assistants throughout the trek, porters to carry equipment between camps, entrance fees to Central Karakoram National Park (CKNP) and all transport between destinations. Allow an extra $200-300 USD per person for tips.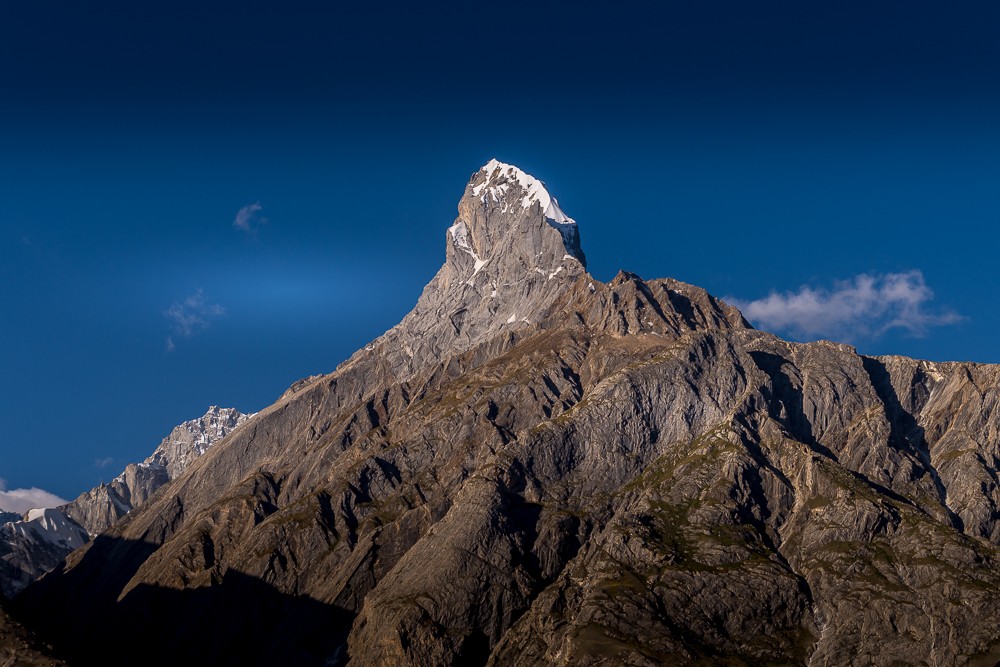 How cold does it get?
This will of course depend on the time of year and your location on the trail. The higher you are, the colder it gets. At the beginning of the trek it was much hotter than I had anticipated. However, once the trail moved onto the glacier, the temperature dropped significantly.
Expect temperatures to drop below freezing, particularly at night. Also, as you'll be sleeping on the glacier it can feel even colder. It's worth keeping an eye on the weather station located at K2 (select 5,000m on the left).
What is the weather like?
During my trek in September, it didn't rain or snow once. All but two or three days were clear. However, this is one of the world's highest mountain ranges and trekkers must be prepared for all types of weather. Expect wind, rain and snow, and hopefully you'll be pleasantly surprised.
When is the best time to trek?
The best time for the K2 base camp trek is from mid-June to mid-September with July and August being the optimum months. Before then, trekking is still possible, but until mid-June, excessive snow remains on passes and north-facing slopes, keeping any passes higher than 3,000m closed.
Most passes, including the Gondogoro La, are closed by the end of September when heavy snow returns. The mountain rescue support team near Gondogoro La departs in early September, so trekkers (as we did) will have to cross the pass unsupported after this time.
What should I pack?
I've put together a complete K2 base camp gear list. It contains everything I took with me including clothing, trekking gear, toiletries, medication, electronics and documentation.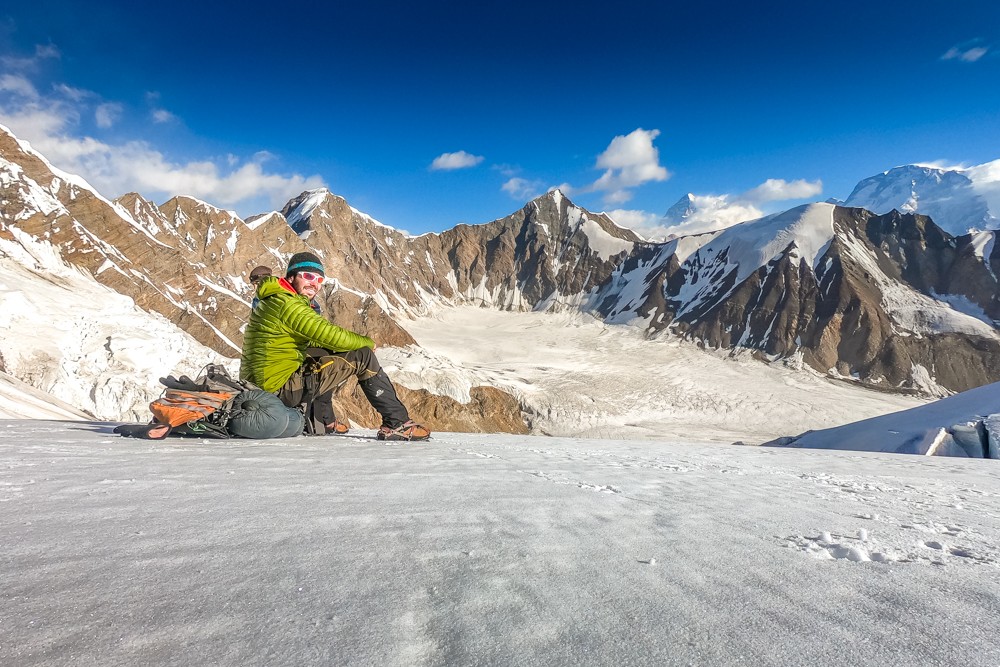 Can I buy trekking gear and clothes locally?
It is possible to buy some equipment in Skardu or Islamabad, but Pakistan doesn't have the range of shops that you find in, say, Kathmandu in Nepal. I would advise that you do all your shopping before you leave home to prevent any last-minute emergencies.
Is there phone reception (or wifi) on the trail?
No. None. Soon after leaving Skardu I lost all phone reception for the duration of my trek. It is possible to buy a dedicated phone and SIM card to use in some areas of the more remote regions, but these are not smartphones and can only be used for local calls and texts.
Your guides should carry a satellite phone for emergencies. Check this before departure.
Can I charge electronics on the trail?
There is no electricity on the trail. I took a powerbank, solar charger and spare batteries with me to ensure my camera and gadgets remained charged.
Where do I get drinking water?
Guides provide boiled water for trekkers. I often topped up my water directly from running streams or meltwater, but always treated it with water purification tablets. Trekkers should carry at least two litres of water on them and aim to drink at least four litres a day.
Do not take bottled water onto the trail as there is no way to dispose of the plastic.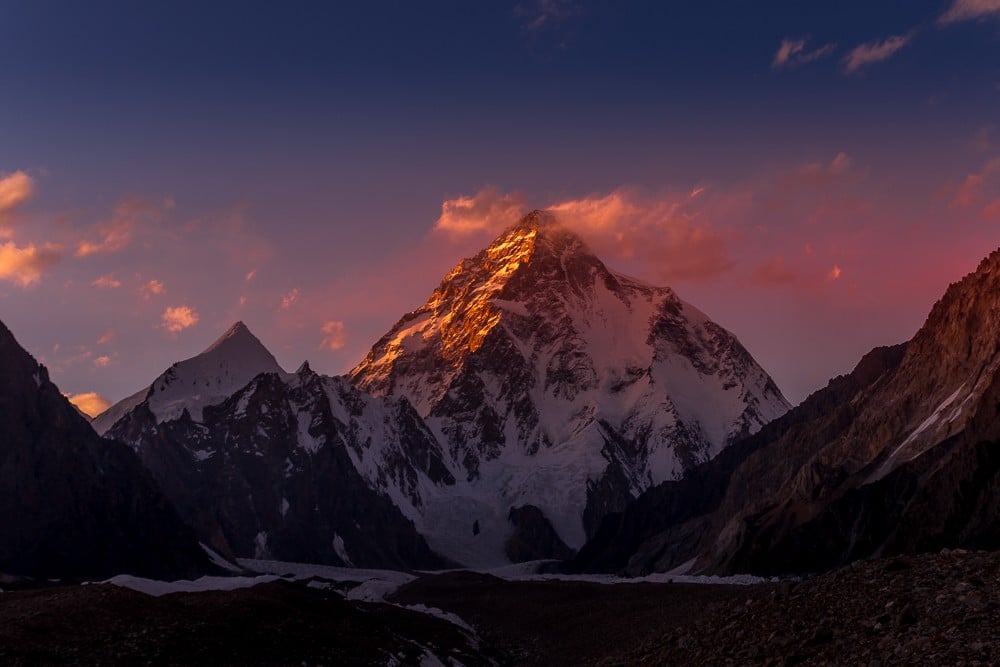 What is the food like?
Pretty varied and delicious considering the challenges of cooking for numerous people at high altitude in a remote region! We had a range meals over the course of the trip. Towards the end of the trek, as supplies diminish, the menu will likely become less varied. The below gives you an idea of what to expect on the trail.
Breakfast: butter, jam, cornflakes, porridge, omelette, fried eggs, paratha pancakes, tea and coffee (instant).
Lunch: soup, biscuits, crackers, long-life cheese and chocolate.
Dinner: rice, dhal, vegetables, biryani, pakoras, fried rice, soup and noodles.
I would urge meat eaters to go vegetarian for the entirety of the trek. This will discourage your guides from taking animals along the trail for slaughter. It is a difficult challenge for the animals and entirely unnecessary. All meals will be vegetarian after a day or two anyway, so ask your guides to avoid this practice.
Are meals included in the price?
All meals on the trek are included in the price, although you may want to take along some of your favourite snacks. Some meals and drinks in Islamabad and Skardu are not included. Allow $5-10 USD per meal.
How do I go to the toilet?
Some of the campsites at lower altitudes have simple drop-toilet facilities, but trekkers should expect to do their business in the wild, leaving no trace in the process. It is essential to follow these basic principles:
Walk well away from the trail and any water sources
Dig a hole with your heel or a trekking pole
Cover the waste thoroughly with soil
Place large boulders on top to stop animals from digging it up
For a more thorough explanation, read Kathleen Meyer's How to Shit in the Woods for a "delightfully shameless discussion of a once-secretive activity".
Can I take a shower along the trail?
There are no shower facilities along the trail. Urdukas is the only campsite with running water, albeit cold. For washing on the trail, I suggest trekkers take soap, antibacterial wipes and coin tissues, all of which must be biodegradable.
What maps or guidebooks do I need?
Currently, there are few up-to-date Pakistan guidebooks available. Therefore, I recommend the waterproof 1:175,000 Karakoram Trekking Map by TerraQuest for the K2 base camp trek.
Are there alternative routes?
There are several variations on the classic K2 base camp trek. I joined a K2 base camp trek combined with a technical crossing of the Gondogoro La Pass. This trek can be completed in either direction. However, starting at Askole is by far the better option as it allows more acclimatisation.
The most popular (classic) itinerary is a simple 'there-and-back' route. This option starts and finishes at Askole and is easier as it avoids the high pass of Gondogoro La. It also offers more flexibility as it's possible to take a number of detours en route including to Trango Towers base camp, as well as options to camp overnight at either K2 or Broad Peak base camps, or both.
These options can all be discussed with your guides before and during the trip to allow you and your group to get the best from the trek. All the groups I met were trekking different variations on the classic K2 base camp itinerary, adapted to suit their wants and abilities. Likewise, our group adapted our itinerary slightly as we progressed.
Is the trek dangerous?
All high-altitude trekking involves a certain degree of risk. However, if you follow these basic tips for trekking to K2 base camp and the advice of your guide, adhere to basic acclimatisation principles and are fit and healthy, you should be able to complete the trek without any serious issues, given that you are fit and healthy.
The important thing with high-altitude trekking is to not rush, go at your pace and listen to your body. Read our detailed guide on how to identify, treat and prevent altitude sickness symptoms.
Do I need specialist insurance?
One of our most important of these tips for trekking to K2 base camp is to make sure you select a travel insurance policy that has sufficient medical coverage. It must have a minimum coverage of $200,000 USD for repatriation and emergency rescue.
Make sure you check how your policy covers 'dangerous activities' such as trekking at altitude (above 5,000m) and mountaineering. Additionally, it must cover the possibility of a helicopter evacuation along with general medical evacuation.
Should I take Diamox?
This is very much down to the individual. I have never taken Diamox, but I have been up to this altitude several times before so know what to expect. However, I do carry some with me in case I ever feel bad at higher altitudes.
The best advice I can give is what my guide gave me on my Everest base camp trek. Have some Diamox with you and take it as soon as you start to feel the pulsing headaches that are synonymous with altitude sickness. He said it's good to have some available at the higher altitudes – particularly where you sleep above 5,000m– so you can use it to help get a good night's sleep.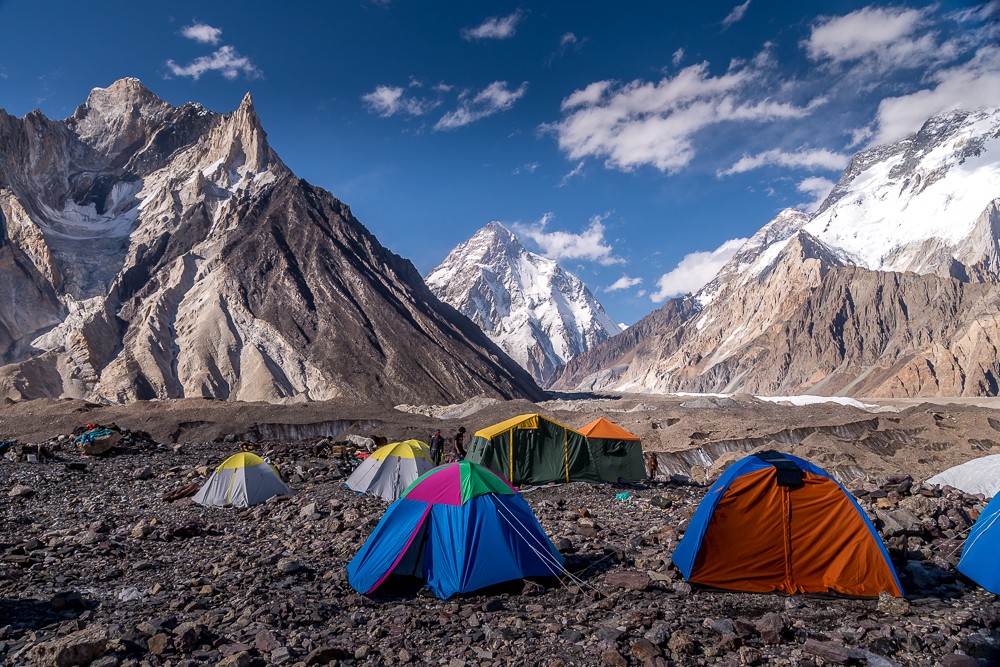 Do I need sunscreen?
Yes! Despite the cold, the sun is intense. Make sure you wear sunscreen with an SPF of at least 40, lip balm with SPF protection, sunglasses and a sunhat.
Do I need a trekking permit?
To trek to K2 base camp you must enter CKNP where you will need to pay a national-park fee and complete a registration form. For foreigners, the fee is $10 USD per person. A full list of park entry fees can be found here.
Additionally, trekkers must obtain a No Objection Certificate (NOC) at the tourism office in Skardu. This permit allows you to travel in a restricted military area. The CKNP is in such an area as it borders India and China.
Both of these permits will be organised by your trekking company and only take a few minutes at each office.
Can I trek it solo?
No. All foreigners must have a licensed guide with them. Foreigners will not be allowed to enter the park without a guide.
Do I need mountaineering skills for the Gondogoro La Pass?
Trekkers do not necessarily need mountaineering skills to cross the Gondogoro La, but experience using crampons and an ice axe will be helpful. If your itinerary does not include a high pass crossing then neither are required. Check these details with your guides when you book.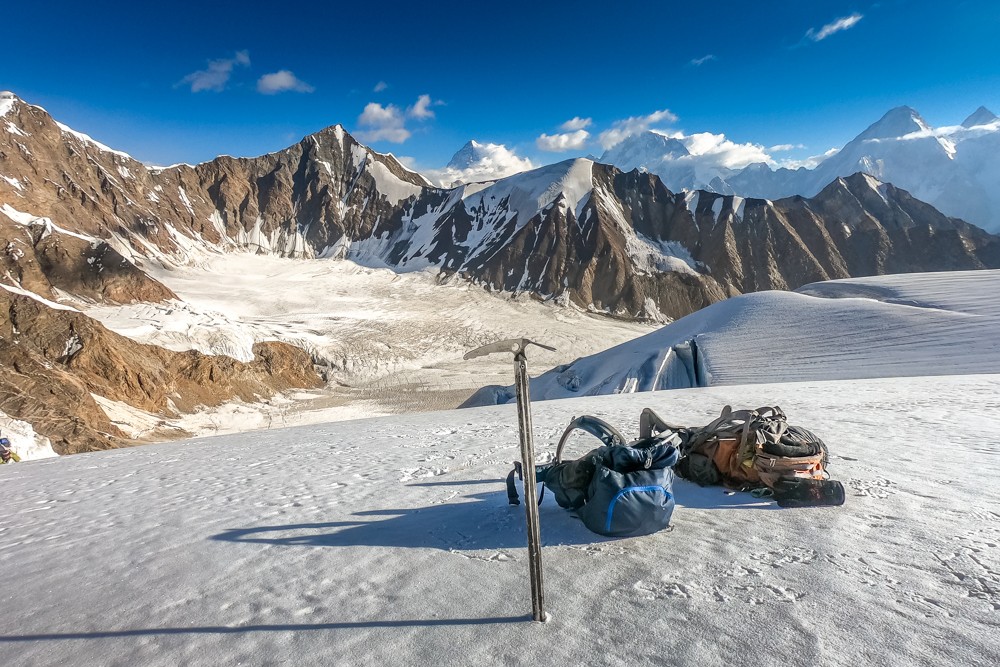 What will the porters carry for me?
The porters will carry your tent, sleeping bag, all cooking equipment and food. You will be responsible for carrying all your personal gear and clothing. Porters may carry 3-4kg of your personal gear on request.
Speaking to other groups, I heard that porters could, and did, carry much more for their clients. This can be negotiated at the time of booking, but obviously expect to pay more for additional porters.
How much should I tip guides and porters?
Budget a minimum of $200 USD for tips. Tipping when travelling can be a bit of a quagmire, but the guides and porters on the trek deserve every penny they earn and then some. Our head guide collected all the tips on our behalf and then distributed them fairly among the team.
Is the trail busy?
No. Compared with other treks I've completed, the trails are practically empty.
Recently, the CKNP has seen a moderate increase in visitor numbers. In 2018, just 900 tourists registered to enter the park. When we entered in early September as one of the last trekking parties of the year, that number had risen to 1,300.
Despite the increase, it's worth remembering that over 30,000 people make the Everest base camp trek in Nepal every year. Pakistan still has a long way to go to catch up with its Himalayan neighbour. With that in mind, now is a great time to go trekking in Pakistan.
What mountains can you see?
Loads! During the trek you'll see some of the most beautiful mountains in the world, including the famous peaks of Trango Towers, Mitre Peak and Laila Peak.
When it comes to really big mountains you will see several 7,000m-plus peaks, starting with Masherbrum, the 22nd highest mountain in the world and the ninth highest in Pakistan.
Shortly afterwards, the Gasherbrum Range with the first eight-thousanders will come into view. The Gasherbrum Range is a collection of five peaks over 7,000m including two over 8,000m.
Finally, Concordia, the last stop before K2 base camp, is one of the few places in the world where you can see four 8,000m peaks from one place: K2, Broad Peak, Gasherbrum I and Gasherbrum II.
Additionally, on the flight from Islamabad to Skardu, if you sit on the right-hand side of the plane, you may glimpse Nanga Parbat, the ninth highest mountain in the world. On the return flight, sit on the left.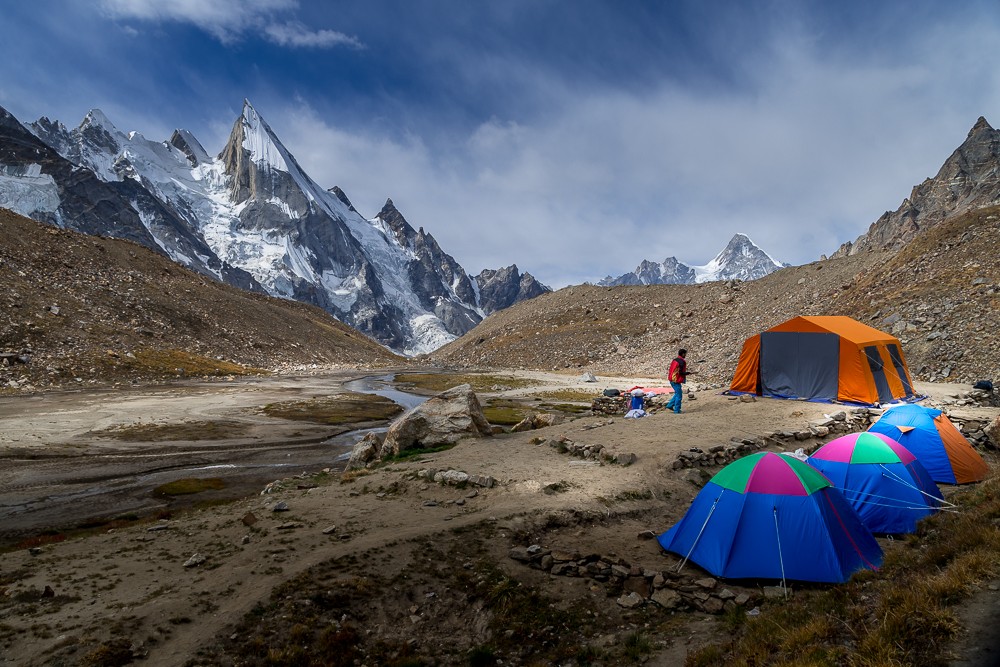 Is it like the Everest base camp trek?
The K2 base camp trek is an entirely different beast to the Everest base camp trek. It's harder, less comfortable and far more remote. Gone are the crowds and comforts of Nepal. Gone are the villages, teahouses, prayer flags and monasteries – even the trails are missing in sections.
However, for me the K2 base camp trek is far more rewarding. The mountains in the Karakorum seem bigger and more imposing as they are unobstructed by their neighbouring ranges.
On the approach to Everest base camp, trekkers get sporadic peekaboo glimpses of its summit as the satellite peaks effectively hide it. But K2 towers above the surrounding massif, completely unimpeded. It may be second in stature to Everest, but it has a grace and symmetry that, in my mind, make it the most striking of the 14 eight-thousanders.
Is the K2 base camp trek worth it?
Yes – a resounding yes. If you take one thing from this K2 base camp trekking guide, it is that the expended effort is 100% worth it.
The K2 base camp trek is a stunning journey to the foot of a legendary mountain. It traverses some of the most spectacular mountain scenery on the planet, the most humbling of which is seen at Concordia where the world's most majestic coliseum of high peaks is guarded by the crown of the Karakoram: K2.
---
Enjoyed this post? pin it for later…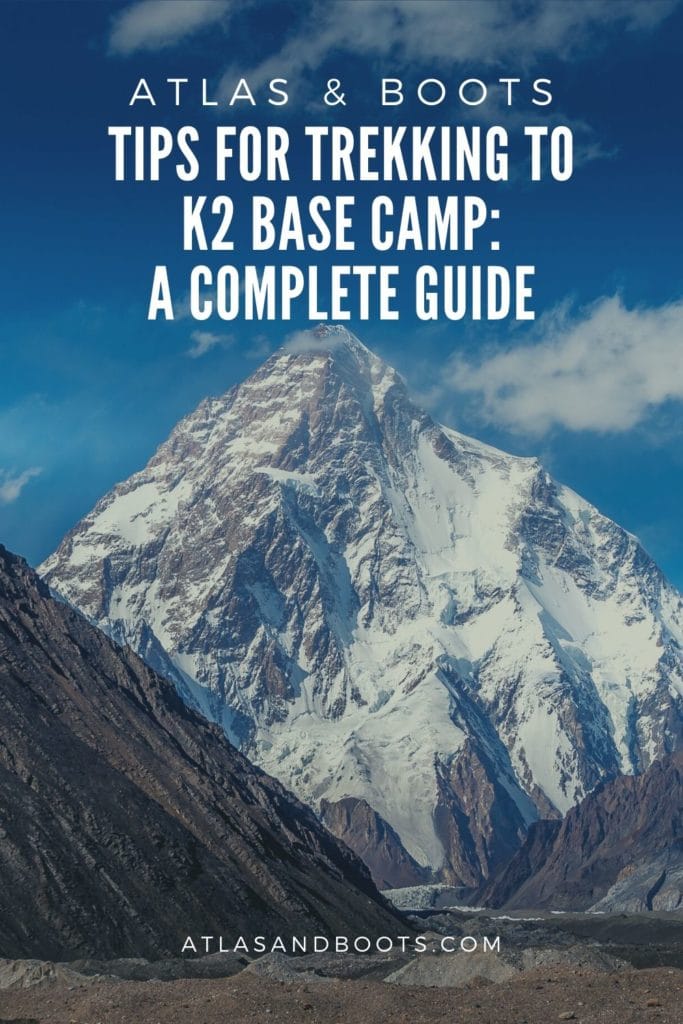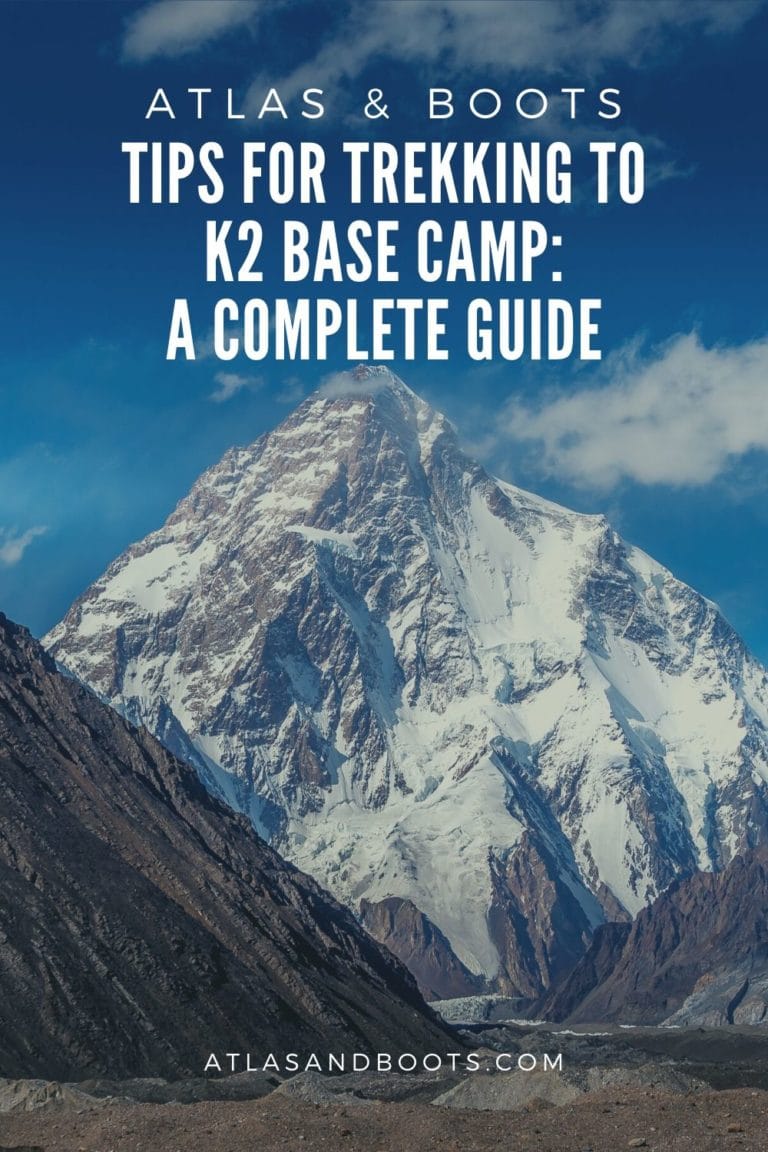 ---
Have we missed any anything? If you have any of your own questions, suggestions or tips for trekking to K2 base camp, please contact us or join our K2 base camp Facebook group.