This year has been a tumultuous one across the globe. A combination of political instability, acts of aggression and forces of nature has hung heavy in the headlines.
The travel industry has suffered, as one might expect when usually-safe areas suddenly become otherwise. Beneath the bleak picture, however, lie a set of strange, sweet or surprising events that have entertained or inspired us throughout the course of the year.
These range from silly (see April) to spectacular (December) and remind us that as long as humans walk the Earth, we'll always have incredible people, places and events.
January: Beagle 2 is found
For over a decade, British probe Beagle 2 lay lost on the surface of Mars. The probe, deployed to much fanfare on 19th December 2003, was named after the ship that took Charles Darwin on his voyage around the world.
"[HMS Beagle] led to our knowledge about life on Earth making a real quantum leap," said project leader Professor Colin Pillinger. "We hope Beagle 2 will do the same thing for life on Mars."
Alas, the team received no contact at the expected time of landing on Mars (Christmas Day 2003). After repeated attempts to make contact, the mission was declared lost two months later.
Its fate remained a mystery for over a decade until January 2015 when it was found intact on the surface of Mars by NASA's Mars Reconnaissance Orbiter HiRISE camera. It's thought that two of the probe's four solar panels failed to deploy, blocking the communications antenna.
Mission manager Mark Sims said of the discovery: "I am delighted that Beagle 2 has finally been found on Mars. Every Christmas Day since 2003 I have wondered what happened to Beagle 2. To be frank I had all but given up hope of ever knowing."
February: Cold weather causes record murder freeze in New York City
New York City enjoyed a 12-day streak without a homicide, the longest since records began. Experts attributed the change to a bout of extremely cold weather which kept residents off the streets and out of trouble. Temperatures dipped to -16ºC (-2ºF) with wind chills making it seem even colder.
March: New record set for Highest tightrope walk
Highwire artist Freddy Nock took our breath away as he broke the 30-year record for world's highest tightrope walk. The course between two Swiss peaks started at Biancograt at 3,532m (11,589ft) above sea level and extended 347m (1,138ft) to Piz Prievlus, the highest mountain in the Eastern Alps.
The walk along a synthetic tightrope of just 18mm in diameter took 39 minutes to complete. It smashed the previous record for highest tightrope walk set by Philippe Petit with his legendary 411m-high (1,350ft) walk between the two towers of New York's World Trade Center in 1974.
April: Kim Jong-Un scales North Korea's highest peak
Kim Jong-un climbs North Korea's highest mountain: https://t.co/21fV7gd3cq

— Atlas & Boots (@atlasandboots) January 4, 2016
June: Kate Moss flies easyJet
In June, Kate Moss hit the headlines after causing trouble on an easyJet flight from Bodrum, Turkey, to London's Luton airport. The Daily Mail reported that Moss was led off the flight for 'swigging vodka from her cabin luggage' after being refused alcohol. She was met by police at Luton but no arrests were made.
The press gleefully reported the undeniably creative insult Moss tossed at the pilot as she left the plane: 'a basic bitch'. It's not the bad behaviour we find amazing, nor the ingenious insult but the fact that Kate Moss, one of the most successful supermodels of all time, was flying easyJet in the first place. Even we with our gut-crunching budget avoid it like the plague.
July: Cuba's flag flies over Washington embassy
Diplomatic relations between the US and Cuba were officially restored with Cuba's foreign minister raising his country's flag at a newly designated embassy in Washington.
To put this into context, the last time Washington hosted a Cuban foreign minister in this manner was in 1958 when John Foster Dulles was secretary of state to President Eisenhower. July's events followed a set of historic diplomatic talks between Presidents Barack Obama and Raúl Castro.
As a result of the change, US citizens can now, in essence, travel freely to Cuba given that their activities fall into one of 12 broad categories (e.g. visits to close relatives, professional research, journalistic or religious activities). As Washington-based lawyer Robert Muse put it, if you can't think up a way to fit into those categories, you're not really trying.
August: Delta joins airline ban on trophy kills
The killing of Zimbabwe's Cecil the Lion not only sparked debate on trophy hunting but also called attention to the airlines transporting trophy kills as cargo. Earlier in the year, a number of large airlines including British Airways, Emirates, Air France and Qantas said that they would ban the transport of trophy kills.
Delta, which maintains popular direct routes between the US and several African countries, was initially reluctant to follow suit but changed position under growing pressure from travellers and activists. Spokesman Morgan Durrant said in a statement: "Effective immediately, Delta will officially ban shipment of all lion, leopard, elephant, rhinoceros and buffalo trophies worldwide as freight."
September: Humans of New York tells refugees' stories
In September, Brandon Stanton of Humans of New York spent 10 days travelling through Greece, Hungary, Croatia, and Austria to learn the stories of refugees travelling across Europe. The resulting photo series and accompanying narrative is poignant in places and downright heartbreaking in others.
With his signature style – spare prose and simple sentiment – Stanton humanises a group of people that have been likened to swarms and vermin in other media. The stories, understated but powerful, demonstrate the depth of human connection but also its frailty.
October: 'twin' Strangers seated together on flight
Events took a surreal turn in October when Glaswegian photographer Neil Thomas Douglas boarded a plane to find his doppelgänger in the seat next to his.
Guy on right is the husband of my friend @elrottencrotch. Guy on left is a STRANGER he met on a flight last night! pic.twitter.com/kwBFOOEoMc — Lee Beattie (@leebeattie) October 30, 2015
Naturally, they took a photo which was later shared on Twitter. There, it took flight, garnering over 23,000 retweets and 26,000 likes. The likeness is so remarkable, it was reported widely by the media including the Guardian, BBC and Telegraph.
The coincidence continued when, later, the pair individually checked into the same hotel and ended up at the same pub. Douglas told reporters: "I went to the pub and again, there was my twin. Total weirdness. We had a laugh and a pint."
November: Atacama Desert blooms with colour
Atacama Desert is usually the driest place on Earth and certainly felt that way when we visited earlier in the year. The 1,000km (600mi) stretch of land along the South American Pacific coast averages about 15mm (0.6in) of rainfall per year.
Periods of four years have been registered with no rainfall in the central sector and some weather stations haven't received any rain at all, ever. All the more amazing then that this happened: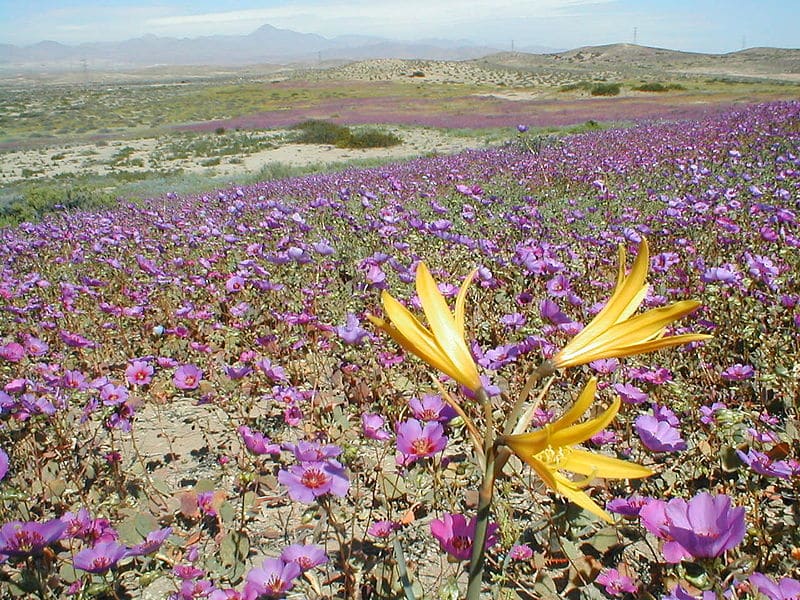 Flowers bloom in Atacama every five to seven years but this year's has been the most spectacular. The rare springtime sight is said to be a result of El Niño current which caused the heaviest rainfall in two decades.
December: Tim Peake becomes first British astronaut on ISS
Major Tim Peake became the first British astronaut on ISS after a flawless rocket launch at Baikonur cosmodrome in Kazakhstan. In under 10 minutes aboard the Russian Soyuz FG rocket, Peake and his two fellow astronauts officially entered space.
Peake, a former army aviator and helicopter test pilot, later spoke to family and friends via a live link. "It was a beautiful launch," he told them. "That sunrise was absolutely spectacular. We also got the benefit of a moon rise which was beautiful to see. To Europe and the UK, I hope you enjoyed the show."
---