So many of us can afford to work less and yet we choose not to. As we prepare to return to work, we look at why work-life balance is still so elusive
Tim Armstrong, the 43-year-old CEO of AOL, gets out of bed at 5am. He tries to hold off sending emails until 7am. After this, he's on email "in the morning, during the commute, and late at night." For some of the weekend he enjoys a respite but then starts work calls and emails at 7pm on Sunday.
Karen Blackett, the CEO of MediaCom UK, receives around 500 emails a day. She gets home at the reasonable hour of 6.30pm to spend time with her son but then returns to work calls and emails at 8pm.
These accounts of CEOs' lives, as described in the Guardian in 2013, are a depressing read. The article authors summarise it well when they ask: "What's the point of being rich and successful if you have to get up before dawn every day to answer 500 emails?"
Some will argue that work is as worthwhile as the alternative; that there is finite pleasure in lounging on a beach all day and that productivity – the feeling of having achieved something – is what makes people happy.
Everyone is different but I think it's fair to say the sweet spot lies far from 500-emails-a-day but not quite as far as perpetual-lounging-on-the-beach.


I was reminded of this tension by recent research that claims British workers take more of their holiday days than their peers across the world. In Britain, 75% of workers surveyed said they are likely to take all their leave this year (a median of 27 days per year).
In dramatic contrast, only 44% of American workers expected to do the same even though their median lies at a paltry 12 days – only one more than China. Indeed, America is one of the only countries in the world in which there is no statutory minimum holiday leave.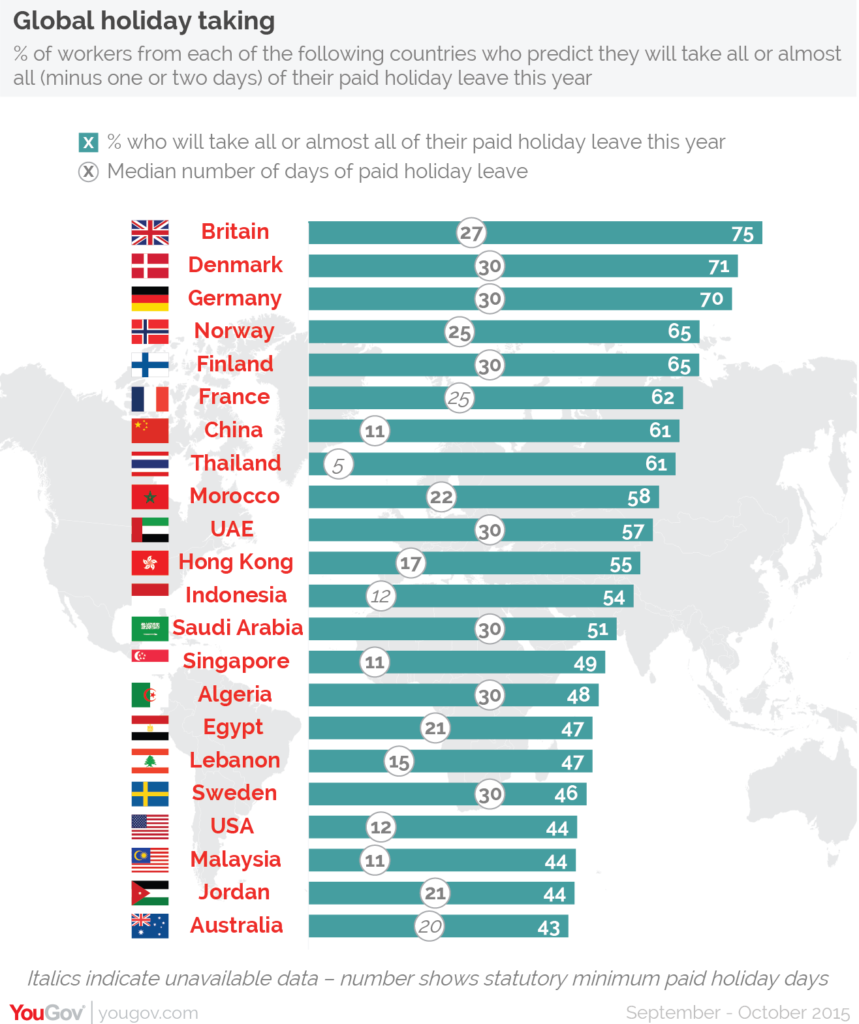 Why such a disparity? Professor of psychology and author of 'Wellbeing: Productivity and Happiness at Work' Cary L. Cooper offers two explanations. First, that Americans are inherently workaholic: "Getting ahead at work is fundamental to their self image, and to the image they like to project to their employer, and, indeed, to the outside world – America is open for business 24/7!"
The second explanation is that American workers are more insecure in their jobs due to weaker legislation around redundancy, sick leave and hours of work. Cooper writes: "With employees more vulnerable to instant job loss if they don't deliver, I suspect that many workers are frightened of taking up their holiday entitlement, as meager as it is, because they fear it sends the message that 'I will not be perceived as fully committed or giving 100%.'"
This attitude to work is thoroughly depressing, be it a buy-in to The Great American Dream or a severe case of "presenteeism". Working too much can damage health and diminish productivity. Plus (and I don't think it's anti-capitalist to say this) surely there are better things we as human beings can do with our time?
It's a question that's been asked many a time, perhaps most famously by economist John Maynard Keynes who predicted that citizens of the developed world would be working 15-hour weeks by around 2030, using the time freed by technology for nobler pursuits: travel, music, art, literature.
Sadly, Keynes was wrong. Technology has not been a liberator but a taskmaster, used by corporate giants to 'help' us work from anywhere.
Many of us already question the futility of long hours. Perhaps those in the distant future will perceive us with the pitying amusement we reserve for witch-hunters and soothsayers. They spent their lives working like hamsters on a wheel! They thought they were achieving something!
Not everyone can afford to work less but we can and should take our holiday leave at the very least. For some, this may mean taking a more low-powered job but, trust me, it's worth it. The alternative is to keep climbing up the greasy pole of career success and finding that, even at its pinnacle, there's simply no respite – just more of the same.
Travelling, spending time with family and friends, learning a new language, reading good books, going for a run are much more important than answering 500 emails a day. If we put aside the 'Choose Life' rhetoric and assess our lives from a practical, objective point of view, so many of us will find that we can and should work less. Life is so much more fun.
---
For more on working less, read How Much Is Enough?: Money and the Good Life by Edward and Robert Skidelsky.