Are those living in the world's least densely populated countries happier than those living in more crowded ones?
Finland was recently named the happiest country in the world. As with previous years, it is clear that developed, conflict-free nations with stable governments tend to rank higher in these indexes.
What's interesting is that many of the world's happiest countries also have relatively low population density. Finland, Norway, Iceland, Canada, New Zealand and Australia all have fewer than 20 people per square kilometre (followed closely by Sweden with 22.12), and all appear in the top 10 happiest countries.
These countries also offer access to nature and large tracts of wilderness. Likewise, there seems to be a correlation between the happiest countries and the greenest countries in the world – 15 countries appear in the top 20 of both lists.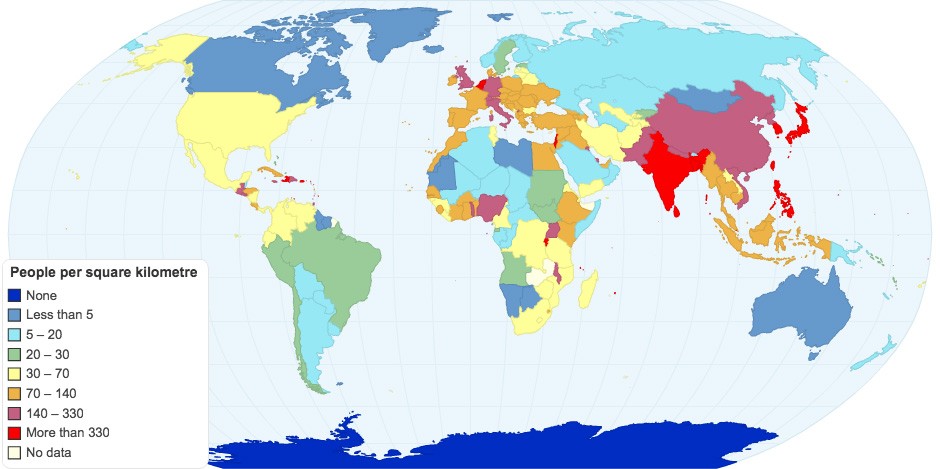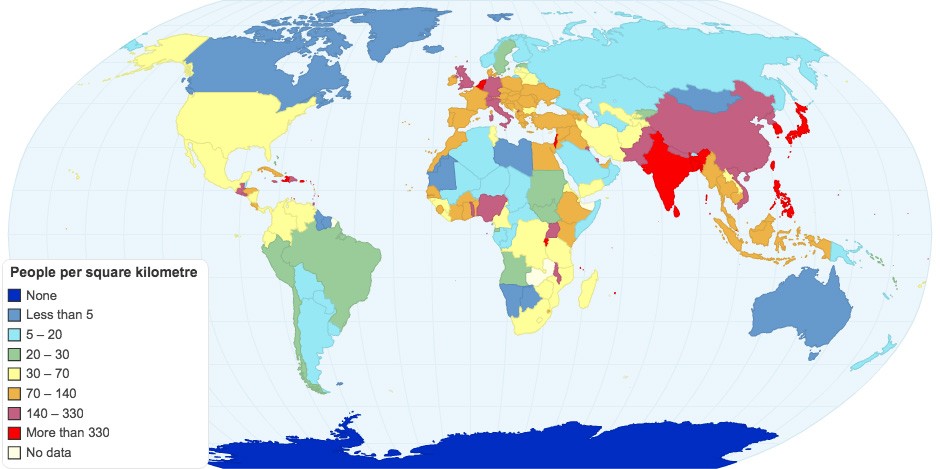 Personally, I wonder if many of the world's problems (loss of wilderness, global warming, pollution and lack of social mobility to name but a few) could be addressed by lowering global population.
How much is too much?
We've written before about how the world is not necessarily getting better. Basic education, literacy, democracy and vaccination may all be improving for humans, but for everything else – the millions of species that also call Earth their home – the world is getting worse.
In 2012, a UN report summarised 65 different estimates of a maximum sustainable population on Earth. The most common estimate was eight billion, just a little higher than the current 7.6 billion people on Earth. Simply put, the world is almost too crowded already.
Population growth has been slowing since the 1960s and UN data patterns show that, globally, the fertility rate per woman has fallen from 4.7 children in 1970-75 to 2.6 in 2005-10, but do we need to speed up the decline?
The UN says that a relatively easy way to achieve this would be to raise the status of women, especially in terms of education and employment opportunities. In 2016, the UN Population Fund calculated that 350 million women in the poorest countries in the world did not want their last child, but did not have the means to prevent the pregnancy.
If these women had more control over family planning, it would significantly affect global population trends. According to this hypothesis, creating a sustainable population is essentially about improving women's rights.
A global two-child policy?
There is also a campaign to implement a global two-child policy. Populution.org (and similarly, populationmatters.org) believes that those having more than two children are the largest polluters on Earth. It suggest that the way to fix Earth's population problem is for people to have only two children or fewer.

The campaign goes even further to suggest that those who have five or more children are "environmental terrorists". This sort of emotive language isn't helpful, but it's no giant leap to suggest that the happiest countries in the world are some of the least densely populated, as well as the greenest.
Can the solution really be this simple? Have fewer children and the world will be happier, greener, better? I can see the logic of this argument, but could never imagine a two-child policy being adopted – or enforced – on a global scale. Instead, I hope that empowering women will naturally speed up the decline.
Ranking the least densely populated countries
The approaching UN World Population Day aims to highlight issues around population and their relation to the environment and development. With this in mind, we thought it pertinent to rank the world's least densely populated countries (and dependent territories) based on the number of people per square kilometre.
| Least | Most | Country | Population density |
| --- | --- | --- | --- |
| 1 | 237 | Antarctica | 0 |
| 2 | 236 | Greenland | 0.03 |
| 3 | 235 | Svalbard | 0.04 |
| 4 | 234 | Falkland Islands (Islas Malvinas) | 0.26 |
| 5 | 233 | Pitcairn Islands | 1.15 |
| 6 | 232 | Mongolia | 1.96 |
| 7 | 231 | Western Sahara | 2.27 |
| 8 | 230 | Australia | 3 |
| 9 | 229 | Namibia | 3.01 |
| 10 | 228 | Iceland | 3.3 |
| 11 | 227 | Guyana | 3.43 |
| 12 | 226 | Canada | 3.57 |
| 13 | 225 | Suriname | 3.61 |
| 14 | 224 | Mauritania | 3.65 |
| 15 | 223 | Libya | 3.78 |
| 16 | 222 | Botswana | 3.81 |
| 17 | 221 | Niue | 6.22 |
| 18 | 220 | Gabon | 6.62 |
| 19 | 219 | Kazakhstan | 6.81 |
| 20 | 218 | Russia | 8.32 |
| 21 | 217 | Central African Republic | 9.03 |
| 22 | 216 | Chad | 9.4 |
| 23 | 215 | Bolivia | 10.14 |
| 24 | 214 | Turkmenistan | 10.96 |
| 25 | 213 | Oman | 11.06 |
| 26 | 212 | Saudi Arabia | 13.29 |
| 27 | 211 | Mali | 14.42 |
| 28 | 210 | Congo, Republic of the | 14.49 |
| 29 | 209 | Papua New Guinea | 14.93 |
| 30 | 208 | New Caledonia | 15.02 |
| 31 | 207 | Niger | 15.19 |
| 32 | 206 | Belize | 15.69 |
| 33 | 205 | Argentina | 15.93 |
| 34 | 204 | Finland | 16.32 |
| 35 | 203 | Christmas Island | 16.33 |
| 36 | 202 | Norway | 16.43 |
| 37 | 201 | New Zealand | 16.78 |
| 38 | 200 | Paraguay | 17.07 |
| 39 | 199 | Algeria | 17.2 |
| 40 | 198 | Somalia | 17.3 |
| 41 | 197 | Uruguay | 19.07 |
| 42 | 196 | Bhutan | 19.75 |
| 43 | 195 | Saint Helena | 19.87 |
| 44 | 194 | Sudan | 20.06 |
| 45 | 193 | South Sudan | 20.22 |
| 46 | 192 | Sweden | 22.12 |
| 47 | 191 | Solomon Islands | 22.41 |
| 48 | 190 | Saint Pierre and Miquelon | 22.86 |
| 49 | 189 | Vanuatu | 23.2 |
| 50 | 188 | Angola | 23.51 |
| 51 | 187 | Chile | 23.53 |
| 52 | 186 | Bahamas, The | 23.77 |
| 53 | 185 | Peru | 24.15 |
| 54 | 184 | Brazil | 24.35 |
| 55 | 183 | Estonia | 27.67 |
| 56 | 182 | Equatorial Guinea | 27.75 |
| 57 | 181 | Kyrgyzstan | 28.95 |
| 58 | 180 | Laos | 30.1 |
| 59 | 179 | Latvia | 30.11 |
| 60 | 178 | United States | 33.22 |
| 61 | 177 | Mozambique | 33.24 |
| 62 | 176 | Venezuela | 34.32 |
| 63 | 175 | Zimbabwe | 35.33 |
| 64 | 174 | Congo, Democratic Republic of the | 35.53 |
| 65 | 173 | Faroe Islands | 36.42 |
| 66 | 172 | Djibouti | 37.3 |
| 67 | 171 | Cook Islands | 39.36 |
| 68 | 170 | Colombia | 41.88 |
| 69 | 169 | Liberia | 42.1 |
| 70 | 168 | Cocos (Keeling) Islands | 42.57 |
| 71 | 167 | Madagascar | 42.68 |
| 72 | 166 | Lithuania | 43.24 |
| 73 | 165 | South Africa | 44.99 |
| 74 | 164 | Belarus | 46 |
| 75 | 163 | Nicaragua | 46.22 |
| 76 | 162 | Montenegro | 46.52 |
| 77 | 161 | Palau | 46.69 |
| 78 | 160 | Norfolk Island | 48.56 |
| 79 | 159 | Guinea-Bissau | 49.61 |
| 80 | 158 | Panama | 49.76 |
| 81 | 157 | Iran | 49.76 |
| 82 | 156 | Eritrea | 50.33 |
| 83 | 155 | Fiji | 50.4 |
| 84 | 154 | Guinea | 50.49 |
| 85 | 153 | Montserrat | 51.88 |
| 86 | 152 | Afghanistan | 52.32 |
| 87 | 151 | Cameroon | 52.57 |
| 88 | 150 | Yemen | 53.1 |
| 89 | 149 | Turks and Caicos Islands | 55.45 |
| 90 | 148 | Virgin Islands | 56.16 |
| 91 | 147 | Tanzania | 56.95 |
| 92 | 146 | Ecuador | 57.45 |
| 93 | 145 | Tajikistan | 58.77 |
| 94 | 144 | Mexico | 63.42 |
| 95 | 143 | Bulgaria | 64.05 |
| 96 | 142 | Lesotho | 64.5 |
| 97 | 141 | Uzbekistan | 66.49 |
| 98 | 140 | French Polynesia | 69.09 |
| 99 | 139 | Tunisia | 69.7 |
| 100 | 138 | Georgia | 70.68 |
| 101 | 137 | Samoa | 70.68 |
| 102 | 136 | Ireland | 71.31 |
| 103 | 135 | United Arab Emirates | 72.64 |
| 104 | 134 | Ukraine | 72.96 |
| 105 | 133 | Burkina Faso | 73.33 |
| 106 | 132 | Senegal | 74.56 |
| 107 | 131 | Cote d'Ivoire | 75 |
| 108 | 130 | Bosnia and Herzegovina | 75.32 |
| 109 | 129 | Croatia | 75.84 |
| 110 | 128 | Morocco | 76.11 |
| 111 | 127 | Brunei | 76.95 |
| 112 | 126 | Honduras | 80.64 |
| 113 | 125 | Burma | 81.47 |
| 114 | 124 | Greece | 81.61 |
| 115 | 123 | Macedonia | 81.82 |
| 116 | 122 | Kenya | 82.04 |
| 117 | 121 | Swaziland | 84.49 |
| 118 | 120 | Sierra Leone | 85.91 |
| 119 | 119 | East Timor | 86.82 |
| 120 | 118 | Iraq | 89.41 |
| 121 | 117 | Cambodia | 89.51 |
| 122 | 116 | Romania | 90.31 |
| 123 | 115 | Serbia | 91.79 |
| 124 | 114 | Malaysia | 95.14 |
| 125 | 113 | Ethiopia | 95.4 |
| 126 | 112 | Costa Rica | 96.48 |
| 127 | 111 | Spain | 96.88 |
| 128 | 110 | Egypt | 96.9 |
| 129 | 109 | Slovenia | 97.28 |
| 130 | 108 | Syria | 97.36 |
| 131 | 107 | Benin | 98.02 |
| 132 | 106 | Dominica | 98.4 |
| 133 | 105 | Cuba | 100.55 |
| 134 | 104 | Armenia | 102.38 |
| 135 | 103 | Moldova | 102.63 |
| 136 | 102 | Turkey | 103.18 |
| 137 | 101 | France | 104.23 |
| 138 | 100 | Austria | 104.38 |
| 139 | 99 | Hungary | 105.89 |
| 140 | 98 | Albania | 106.02 |
| 141 | 97 | Tokelau | 107.08 |
| 142 | 96 | Wallis and Futuna | 110.66 |
| 143 | 95 | Slovakia | 111.06 |
| 144 | 94 | Northern Mariana Islands | 112.64 |
| 145 | 93 | Jordan | 114.71 |
| 146 | 92 | Azerbaijan | 115.03 |
| 147 | 91 | Ghana | 115.29 |
| 148 | 90 | Portugal | 117.71 |
| 149 | 89 | Poland | 123.05 |
| 150 | 88 | Denmark | 130.09 |
| 151 | 87 | Thailand | 133.33 |
| 152 | 86 | Kiribati | 133.35 |
| 153 | 85 | Czech Republic | 135 |
| 154 | 84 | Indonesia | 136.82 |
| 155 | 83 | Cape Verde | 139.08 |
| 156 | 82 | Togo | 140.27 |
| 157 | 81 | Guatemala | 141.99 |
| 158 | 80 | Tonga | 142.54 |
| 159 | 79 | China | 143.72 |
| 160 | 78 | Micronesia, Federated States of | 148.43 |
| 161 | 77 | Isle of Man | 155.27 |
| 162 | 76 | Kuwait | 161.38 |
| 163 | 75 | Malawi | 162.02 |
| 164 | 74 | Uganda | 164.17 |
| 165 | 73 | Andorra | 164.46 |
| 166 | 72 | Kosovo | 174.08 |
| 167 | 71 | Gambia, The | 181.54 |
| 168 | 70 | Paracel Islands | 185.81 |
| 169 | 69 | Anguilla | 187.77 |
| 170 | 68 | Switzerland | 199.54 |
| 171 | 67 | Nepal | 199.65 |
| 172 | 66 | Qatar | 199.75 |
| 173 | 65 | Saint Kitts and Nevis | 201.97 |
| 174 | 64 | Italy | 206.2 |
| 175 | 63 | Nigeria | 206.36 |
| 176 | 62 | Seychelles | 206.42 |
| 177 | 61 | Sao Tome and Principe | 208.53 |
| 178 | 60 | Korea, North | 209.46 |
| 179 | 59 | Antigua and Barbuda | 214.03 |
| 180 | 58 | Dominican Republic | 220.55 |
| 181 | 57 | Cayman Islands | 221.37 |
| 182 | 56 | Germany | 225.74 |
| 183 | 55 | Luxembourg | 229.75 |
| 184 | 54 | British Virgin Islands | 231.89 |
| 185 | 53 | Trinidad and Tobago | 237.56 |
| 186 | 52 | Liechtenstein | 239.02 |
| 187 | 51 | Pakistan | 257.41 |
| 188 | 50 | American Samoa | 258.81 |
| 189 | 49 | Saint Vincent and the Grenadines | 262.44 |
| 190 | 48 | United Kingdom | 265.87 |
| 191 | 47 | Saint Lucia | 267.85 |
| 192 | 46 | Jamaica | 272.09 |
| 193 | 45 | Saint Barthelemy | 287.36 |
| 194 | 44 | Vietnam | 290.33 |
| 195 | 43 | El Salvador | 293.33 |
| 196 | 42 | Guam | 307.64 |
| 197 | 41 | Grenada | 324.78 |
| 198 | 40 | Japan | 334.6 |
| 199 | 39 | Curacao | 337.05 |
| 200 | 38 | Sri Lanka | 341.55 |
| 201 | 37 | Philippines | 347.52 |
| 202 | 36 | Comoros | 361.56 |
| 203 | 35 | Puerto Rico | 368.17 |
| 204 | 34 | Belgium | 376.42 |
| 205 | 33 | Haiti | 383.67 |
| 206 | 32 | India | 389.97 |
| 207 | 31 | Israel | 399.6 |
| 208 | 30 | Netherlands | 411.25 |
| 209 | 29 | Marshall Islands | 411.82 |
| 210 | 28 | Burundi | 412.03 |
| 211 | 27 | Tuvalu | 425.08 |
| 212 | 26 | Rwanda | 451.88 |
| 213 | 25 | West Bank | 468.93 |
| 214 | 24 | Korea, South | 513.25 |
| 215 | 23 | Nauru | 540.9 |
| 216 | 22 | San Marino | 549.79 |
| 217 | 21 | Saint Martin | 590.53 |
| 218 | 20 | Lebanon | 599.02 |
| 219 | 19 | Aruba | 639.56 |
| 220 | 18 | Taiwan | 653.37 |
| 221 | 17 | Mauritius | 664.9 |
| 222 | 16 | Barbados | 679.85 |
| 223 | 15 | Jersey | 852.07 |
| 224 | 14 | Guernsey | 852.59 |
| 225 | 13 | Bangladesh | 1063.09 |
| 226 | 12 | Sint Maarten | 1237.74 |
| 227 | 11 | Bermuda | 1312.3 |
| 228 | 10 | Malta | 1317.53 |
| 229 | 9 | Maldives | 1317.82 |
| 230 | 8 | Bahrain | 1856.5 |
| 231 | 7 | Holy See (Vatican City) | 2272.73 |
| 232 | 6 | Gibraltar | 4522.46 |
| 233 | 5 | Gaza Strip | 4986.62 |
| 234 | 4 | Hong Kong | 6490.53 |
| 235 | 3 | Singapore | 8188.16 |
| 236 | 2 | Monaco | 15322.5 |
| 237 | 1 | Macau | 21346.42 |
(Source: )
Lead image: Atlas & Boots