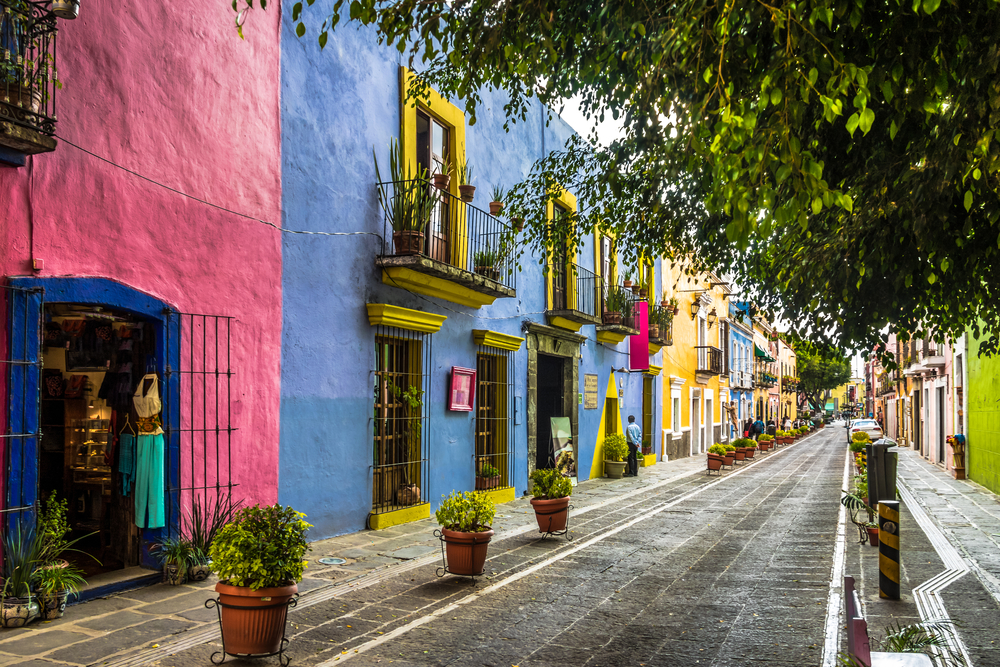 The best countries for expats have been ranked with Mexico taking the top spot. We take a look at the rest of the results
Mexico is the best country for expats followed by Spain and Panama. All three countries attract foreign workers because of their ease of settling in, climate and quality of life.
There are an estimated 281 million expatriates – or international migrants – across the globe which equates to 3.6% of the global population. These days, the term 'expat' is no longer limited to corporate employees relocating from a company's headquarters.
Instead, more and more expats are moving overseas in search of a dream. Some have remote jobs and are now working from a location they love. InterNations' latest survey looks at how expats' motivations for moving are changing where they go.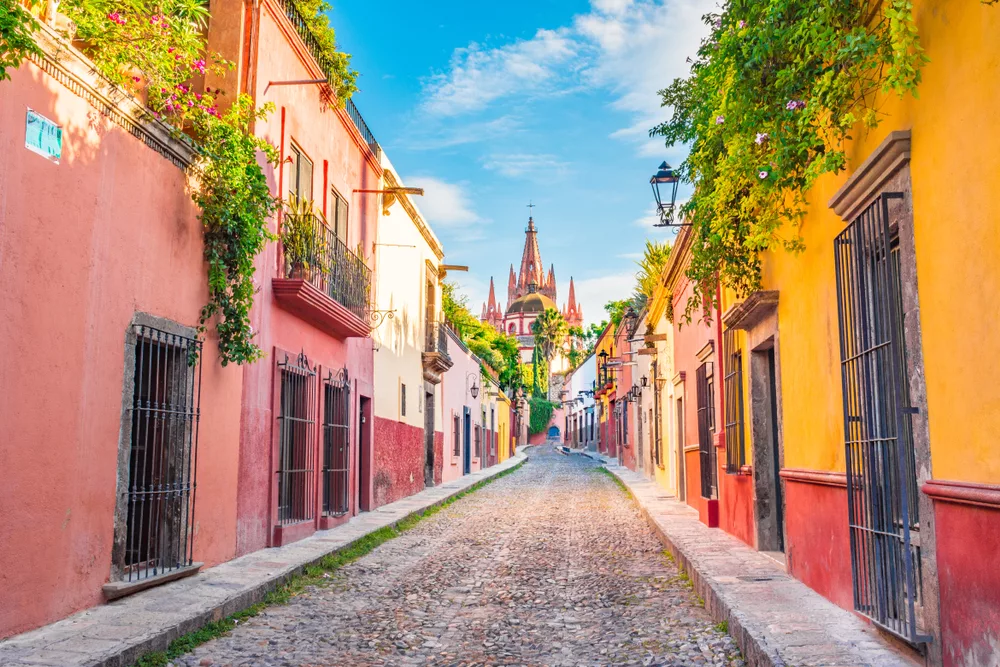 Now in its 10th year, the Expat Insider survey is the largest of its kind. InterNations draws on its 4.7 million members and surveys over 12,000 expats from 171 nationalities living in 172 countries or territories.
InterNations uses its members' answers to rank 59 destinations on how expat residents feel towards their home away from home. The survey was conducted in February 2023.
"If you are willing to learn the language and adapt to the local culture, this is the best country to live and work in."

– A Dutch expat in Mexico
The survey uses 56 individual factors that influence an expat's experience of living in a foreign country including safety and security, family life, finances, travel and transport options, ease of settling in, average working hours and the impact the pandemic had on expat life.
Where expats love living
Mexico was placed first out of 53 countries after consistently ranking in the top five since the first survey was conducted in 2014.
The country performed well in terms of ease of settling in, friendliness and waste in making local friends. Expats also report that it is easy to get used to the Mexican culture. Most expats are also satisfied with the general cost of living (71% vs. 44% globally). Additionally, 80% are satisfied with their financial situation compared with 58% globally.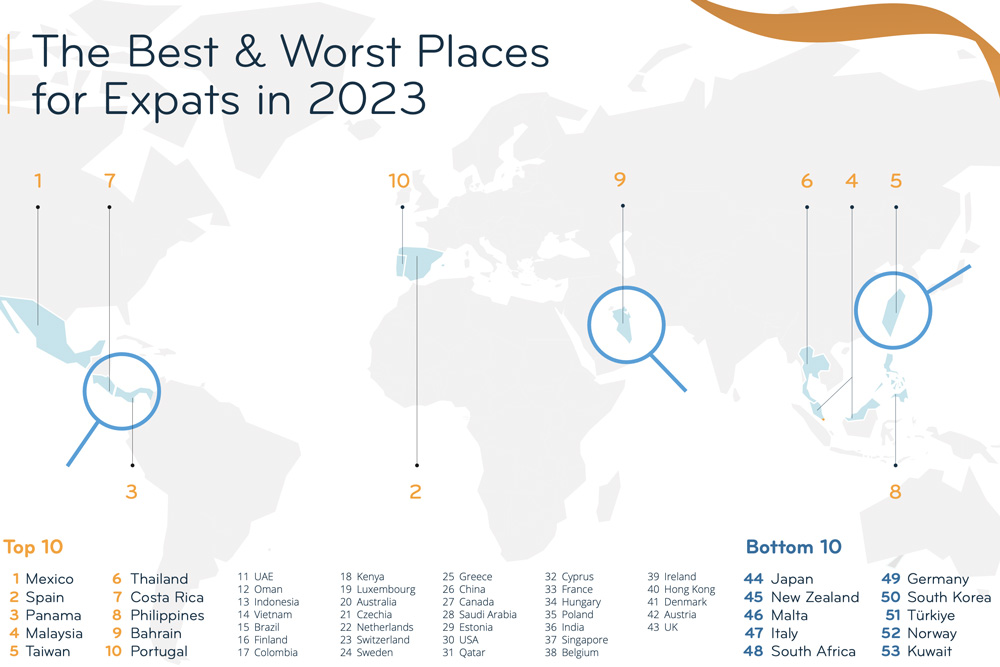 Spain is the second-best country for expats and performed particularly well in the Quality of Life Index. with expats particularly content with the culture and nightlife, access to sports and recreation opportunities and the country's climate and weather.
"I love the sea, beach, weather and sporting activities. I don't need a car to get around with the great public transportation."

– A German expat in Spain
Panama is the third-best country for expats. it performed particularly well in the Ease of Settling In (4th), Finding Friends (1st) and Culture & Welcome (2nd) subcategories. Malaysia and Taiwan round out the top five respectively.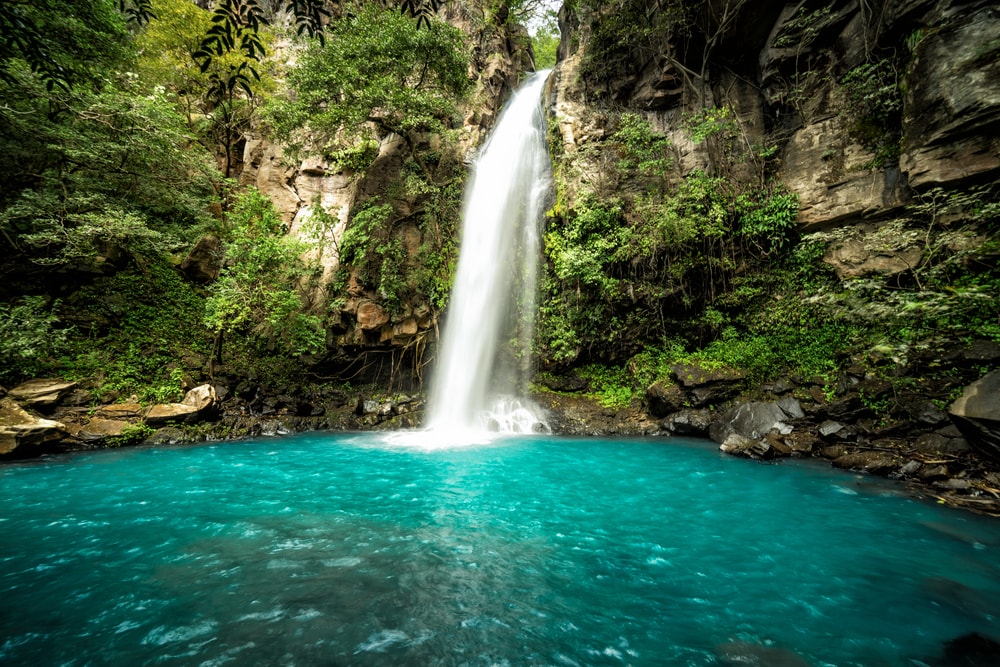 10 best countries for expats
Mexico
Spain
Panama
Malaysia
Taiwan
Worst countries for expats
Once again, Kuwait has been named the worst country for expats, following a trend of remarkably poor performances across the past 10 years of the survey.
The country came last in the Quality of Life (53rd) subcategory. Expats are particularly discontent with their Leisure Options (53rd). Additionally, 49% of expats in Kuwait feel like they cannot express their opinions openly – more than three times the global average (15%). The availability (47th), affordability (45th) and quality (46th) of healthcare are also poorly rated.
In 52nd place, Norway is the second-worst country for expats. It performed poorly for the cost of living and difficulty with setting in with many expats reporting they have found it hard to make local friends and do not feel at home in the country.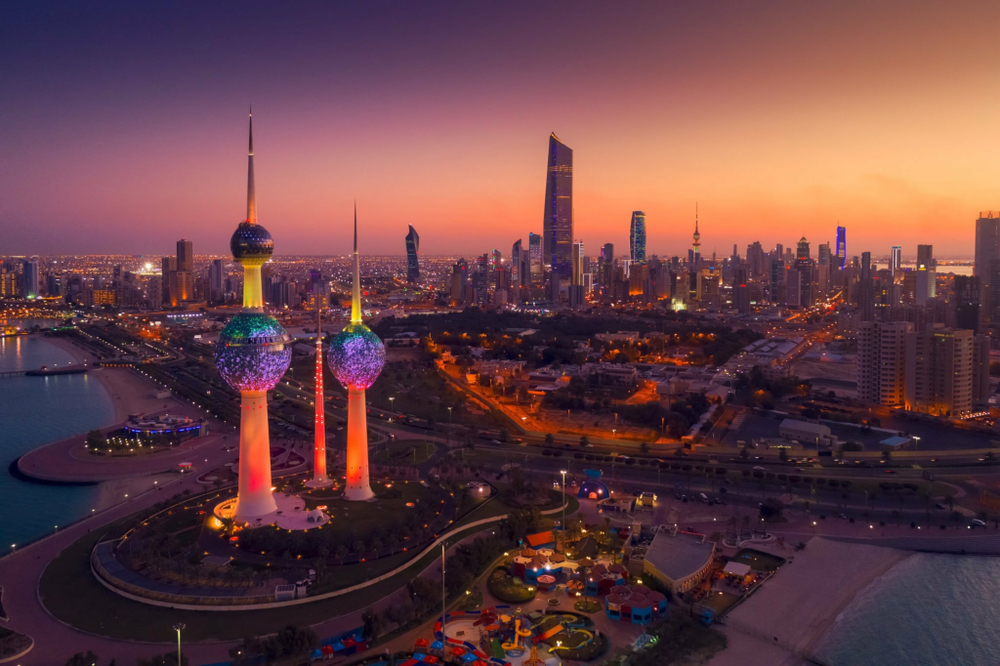 Turkey, South Korea and Germany round out the bottom five respectively. Generally, among the poorer performing countries expats were particularly dissatisfied with the ease of settling in, working life and cost of living subcategories.
The UK continues to underperform after tumbling 21 places and dropping to 59th place in 2018 following Brexit. It has recovered somewhat to 43rd position. However, it's worth remembering that six countries have dropped out of the ranking since last year because of an insufficient number of respondents.
Complete ranking
Participants were asked to assess up to 37 factors concerning various aspects of life abroad on a scale of one to seven.
The mean values were then calculated to create the below ranking of the best countries for expats.
| Rank | Country |
| --- | --- |
| 1 | Mexico |
| 2 | Spain |
| 3 | Panama |
| 4 | Malaysia |
| 5 | Taiwan |
| 6 | Thailand |
| 7 | Costa Rica |
| 8 | Philippines |
| 9 | Bahrain |
| 10 | Portugal |
| 11 | UAE |
| 12 | Oman |
| 13 | Indonesia |
| 14 | Vietnam |
| 15 | Brazil |
| 16 | Finland |
| 17 | Colombia |
| 18 | Kenva |
| 19 | Luxembourg |
| 20 | Australia |
| 21 | Czechia |
| 22 | Netherlands |
| 23 | Switzerland |
| 24 | Sweden |
| 25 | Greece |
| 26 | China |
| 27 | Canada |
| 28 | Saudi Arabia |
| 29 | Estonia |
| 30 | USA |
| 31 | Kenya |
| 32 | Cyprus |
| 33 | France |
| 34 | Hungary |
| 35 | Poland |
| 36 | India |
| 37 | Singapore |
| 38 | Belgium |
| 39 | Ireland |
| 40 | Hong Kong |
| 41 | Denmark |
| 42 | Austria |
| 43 | UK |
| 44 | Japan |
| 45 | New Zealand |
| 46 | Malta |
| 47 | Italy |
| 48 | South Africa |
| 49 | Germany |
| 50 | South Korea |
| 51 | Türkiye |
| 52 | Norway |
| 53 | Kuwait |
More rankings and articles can be found in our remote work area:

► Most dangerous countries in the world
► Countries with the best healthcare in the world
► World's worst countries to drive in
► Most peaceful countries in the world
► Best countries for women
► Happiest countries in the world
► World's most powerful passport
► Countries with the fastest internet
► Most stressed countries in the world
► Most expensive cities for expats
► World's most democratic countries
---
Enjoyed this post? pin it for later…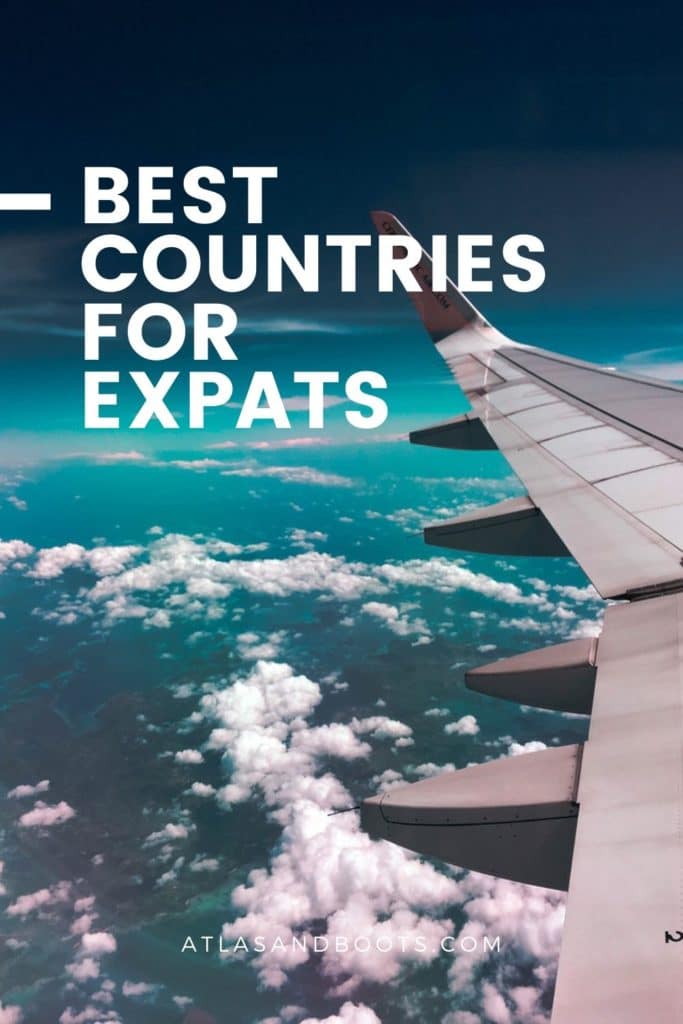 ---