The most dangerous countries in the world to visit in 2020 have been revealed in the latest global security risk report
Now in its 11th year, the Travel Risk Map is an interactive tool produced by security specialists at International SOS. It is used to predict the safest and conversely the most dangerous places to visit in the year ahead.
The map comprises three sections: medical, security and road safety. For the security section, countries are indexed according to their travel security risk rating, which uses five risk definitions: insignificant, low, medium, high and extreme.
International SOS uses a number of criteria to assess how the conditions in the country may impact visitors' security and safety including 'the threat posed to travellers and international assignees by political violence (including terrorism, insurgency, politically motivated unrest and war), social unrest (including sectarian, communal and ethnic violence) as well as violent and petty crime.'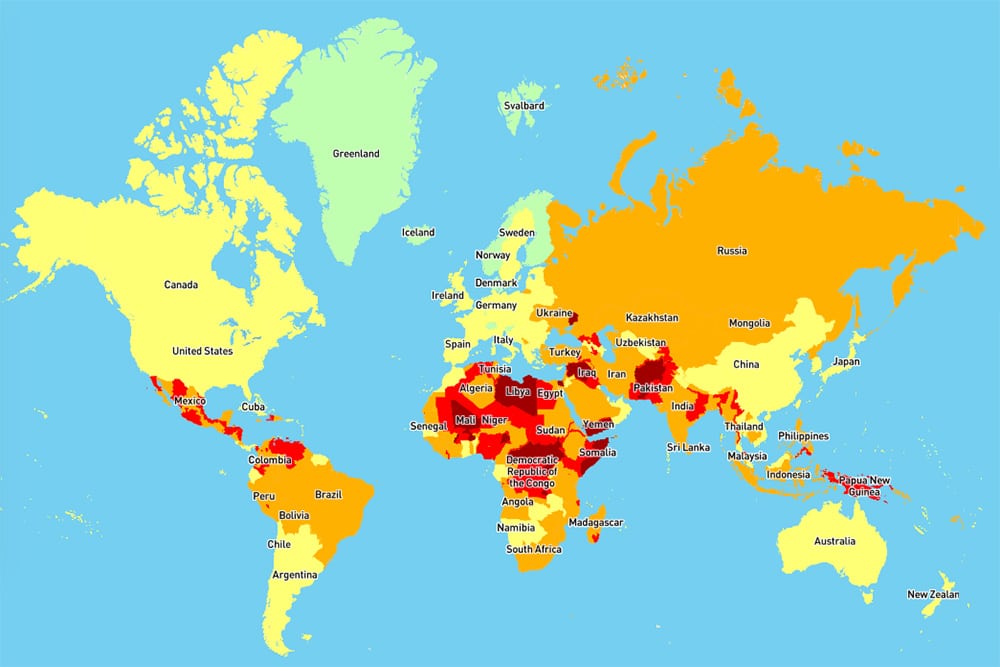 Other factors assessed include transport infrastructure, the capability of security and emergency services, and the threat of natural disasters.
It's also possible to use the map to assess medical risk and road safety standards around the world.
The report goes as far as to predict eight upcoming potential geopolitical events that could affect global security. These events include the upcoming US presidential election, tensions in the Korean peninsula and social disturbances and identity politics in Europe.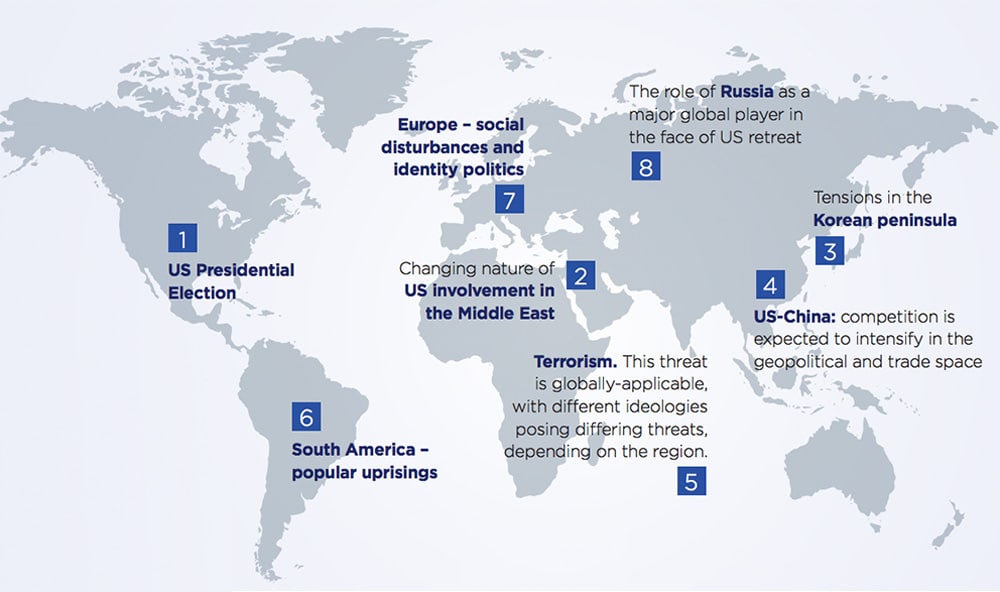 MOST DANGEROUS COUNTRIES IN THE WORLD
These are the 10 most dangerous countries in the world according to International SOS. They have been assessed as carrying an 'extreme travel security risk'.
Afghanistan
Iraq
Libya
Somalia
South Sudan
Ukraine
Yemen
SAFEST COUNTRIES IN THE WORLD
At the other end of the spectrum, the following 11 countries have been assessed as carrying an 'insignificant travel security risk' to travellers and therefore the safest countries to visit.
Andorra
Denmark
Luxembourg
Slovenia
Complete rankings
Most countries in Europe along with the USA, Australia, New Zealand and Canada have been assessed as carrying a 'low travel security risk'.
Likewise, many countries in Asia and the Middle East including Jordan, Oman, Singapore, Japan, China, South Korea, Vietnam, Laos, Malaysia and Brunei are considered 'low risk'.
Some countries fall into more than one category where regions within a country carry varying security risks to travellers.
Extreme
Afghanistan
Central African Republic
Iraq
Libya
Mali
Somalia
South Sudan
Syria
Ukraine
Yemen
High
Burkina Faso
Congo, Democratic Republic of
Egypt
El Salvador
Haiti
Honduras
India (part)
Mexico (part)
Niger
Nigeria
Pakistan
Papua New Guinea
Venezuela
Medium
Algeria
Angola
Bahrain
Bangladesh
Belize
Bolivia
Brazil
Burundi
Cambodia
Cameroon
Chad
Colombia
Comoros
Congo
Costa Rica (part)
Djibouti
Dominican Republic
East Timor
Eritrea
Ethiopia
Fiji
Guatemala
Guinea
Guinea-Bissau
Guyana
India
Indonesia
Iran
Israel
Ivory Coast
Jamaica
Kenya
Kyrgyzstan
Laos
Lebanon
Lesotho
Liberia
Madagascar
Mauritania
Mexico
Mongolia
Mozambique
Myanmar (Burma)
Nepal
Nicaragua
North Korea
Peru
Philippines
Russia
Saudi Arabia
Sierra Leone
South Africa
Sri Lanka
Swaziland (Eswatini)
Tajikistan
Tanzania
Togo
Trinidad and Tobago
Tunisia
Turkey
Turkmenistan
Uganda
Ukraine (unoccupied area)
Zimbabwe
Low
Albania
Antigua and Barbuda
Argentina
Armenia
Australia
Austria
Azerbaijan
Bahamas
Barbados
Belarus
Belgium
Benin
Bhutan
Bosnia and Herzegovina
Botswana
Brunei
Bulgaria
Canada
Chile
China
Costa Rica
Croatia
Cuba
Cyprus
Czech Republic
Dominica
Ecuador
Equatorial Guinea
Estonia
France
Gabon
Gambia
Georgia
Germany
Ghana
Greece
Grenada
Hong Kong
Hungary
Ireland
Italy
Japan
Jordan
Kuwait
Latvia
Liechtenstein
Lithuania
Macedonia
Malawi
Malaysia
Malta
Mauritius
Moldova
Monaco
Montenegro
Morocco
Namibia
Netherlands
New Zealand
Oman
Panama
Paraguay
Poland
Portugal
Qatar
Romania
Rwanda
Saint Kitts and Nevis
Saint Lucia
Saint Vincent and the Grenadines
San Marino
Sao Tome and Principe
Senegal
Serbia
Singapore
Slovakia
Spain
South Korea
Suriname
Sweden
Taiwan
Thailand
United Arab Emirates
United Kingdom
United States
Uruguay
Uzbekistan
Vatican City
Vietnam
Zambia
Insignificant
Andorra
Denmark
Finland
Greenland
Iceland
Luxembourg
Marshall Islands
Norway
Slovenia
Switzerland
Tuvalu
The full interactive map by International SOS can be accessed here.
More rankings and articles can be found in our remote work area:

► Countries with the best healthcare in the world
► World's worst countries to drive in
► Most peaceful countries in the world
► Best countries for women
► Poorest countries in the world – ranked
► Happiest countries in the world
► World's most powerful passport
► Countries with the fastest internet in the world
► Most stressed countries in the world
► Most expensive cities for expats
► World's most democratic countries
---
Enjoyed this post? pin it for later…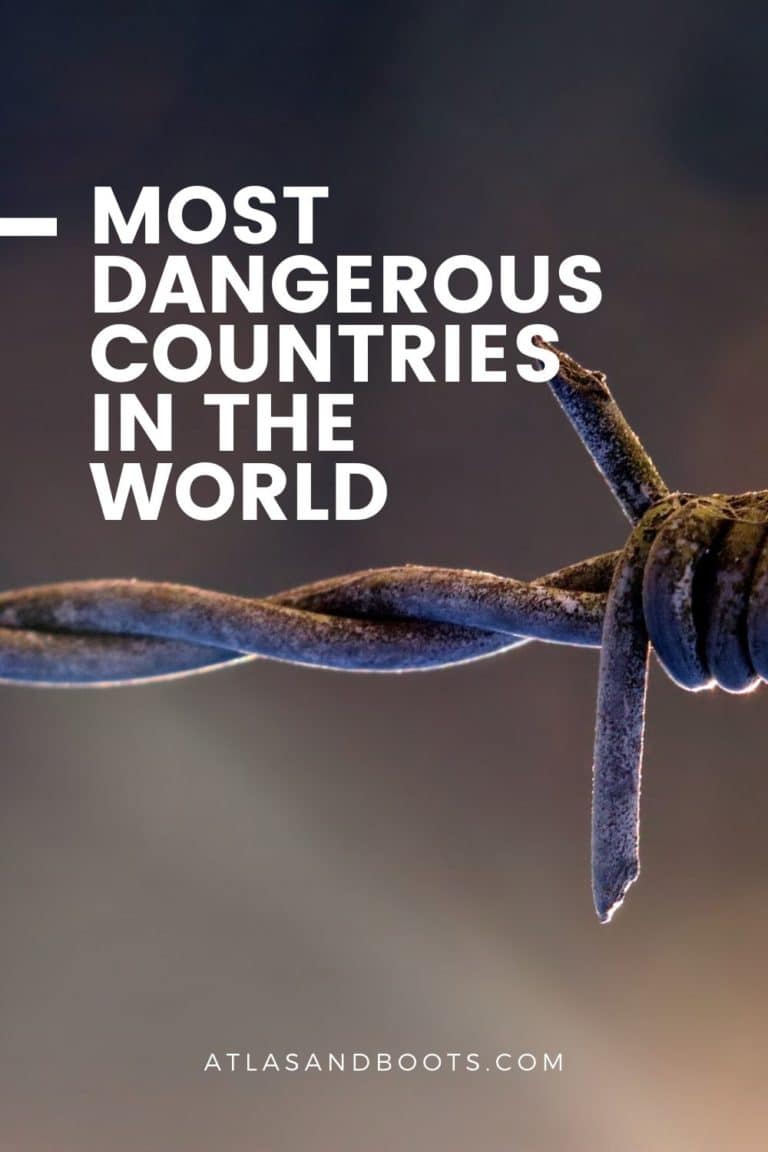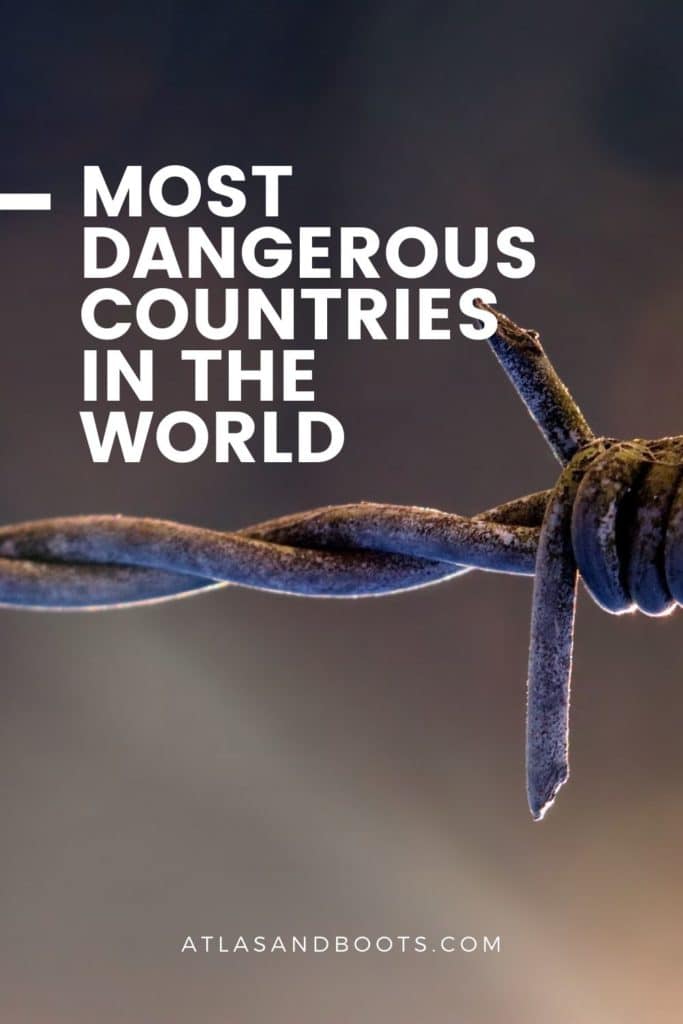 ---