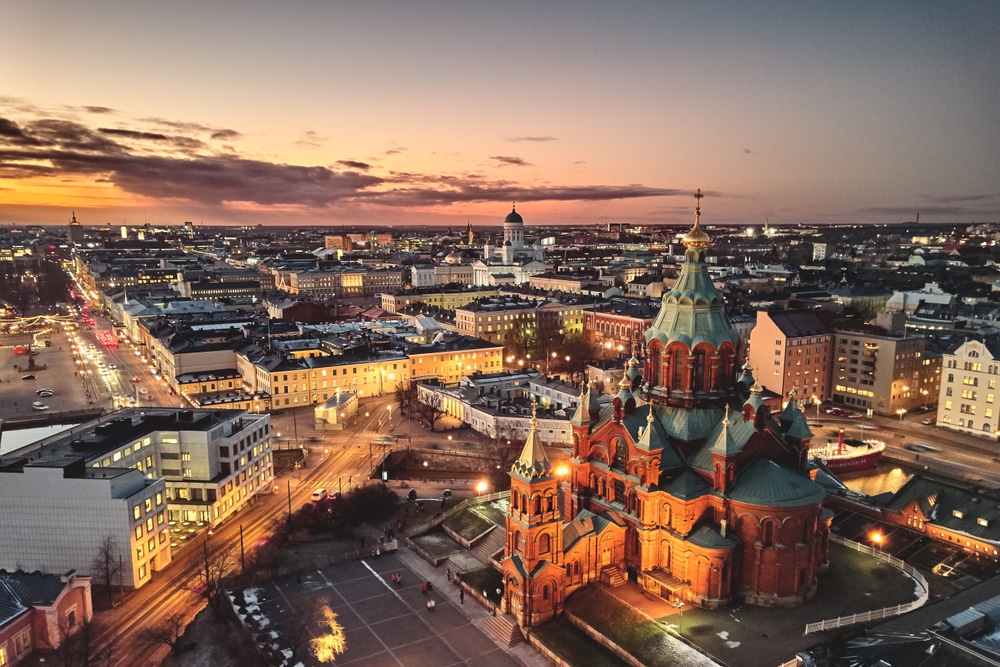 The happiest cities in the world have been ranked alongside the happiest countries. Unsurprisingly, Helsinki takes first place
For the first time in its history, the World Happiness Report has ranked 186 individual cities as well as the world's happiest countries.
As one would expect, Finland – the world's happiest country – is also home to the world's happiest city: Helsinki. The report indicates that the happiest cities are generally to be found in the happiest countries.
More than half the world's population (55.3%) – around 4.2 billion people – live in urban areas. Those city dwellers are on average happier than those living in rural areas, especially in less happy countries.
The ranking of cities' happiness does not produce radically different results than the existing country happiness ranking. In general, cities in Scandinavia, Australia and New Zealand tend to score high when it comes to the subjective well-being of their residents.
Contrariwise, in countries with a history of political instability, war, armed conflict and recent occurrences of terrorism, their cities score low.
50 happiest cities in the world – mapped
complete ranking
Helsinki – Finland (7.828)
Aarhus – Denmark (7.625)
Wellington – New Zealand (7.553)
Zurich – Switzerland (7.541)
Copenhagen – Denmark (7.530)
Bergen – Norway (7.527)
Oslo – Norway (7.464)
Tel Aviv – Israel (7.461)
Stockholm – Sweden (7.373)
Brisbane – Australia (7.337)
San Jose – Costa Rica (7.321)
Reykjavik – Iceland (7.317)
Toronto Metro – Canada (7.298)
Melbourne – Australia (7.296)
Perth – Australia (7.253)
Auckland – New Zealand (7.232)
Christchurch – New Zealand (7.191)
Washington DC – USA (7.185)
Dallas – USA (7.155)
Sydney – Australia (7.133)
Houston – USA (7.110)
Dublin – Ireland (7.096)
Boston – USA (7.091)
Goteborg – Sweden (7.080)
Chicago – USA (7.033)
Atlanta – USA (7.031)
Miami – USA (7.028)
Philadelphia – USA (7.004)
Vienna – Austria (6.998)
New York – USA (6.964)
Los Angeles – USA (6.956)
Cork – Ireland (6.946)
Jerusalem – Israel (6.943)
San Miguelito – Panama (6.844)
Abu Dhabi – UAE (6.808)
London – UK (6.782)
Santiago – Chile (6.770)
Mexico City – Mexico (6.693)
Dubai – UAE (6.687)
Brussels – Belgium (6.674)
Panama City – Panama (6.662)
Guatemala City – Guatemala (6.650)
Paris – France (6.635)
Prague – Czech Republic (6.620)
Bogota – Colombia (6.612)
Medina – Saudi Arabia (6.592)
Taipei – Taiwan (6.517)
Madrid – Spain (6.500)
Singapore (6.494)
Guayaquil – Ecuador (6.491)
Montevideo – Uruguay (6.455)
Quito – Ecuador (6.437)
Sao Paulo – Brazil (6.383)
Bratislava – Slovakia (6.383)
Barcelona – Spain (6.380)
Metro Bangkok – Thailand (6.330)
Buenos Aires – Argentina (6.324)
San Salvador Metro – El Salvador (6.321)
Jeddah – Saudi Arabia (6.314)
Kuwait City – Kuwait (6.307)
Manama – Bahrain (6.278)
Riyadh – Saudi Arabia (6.270)
Doha – Qatar (6.260)
Managua – Nicaragua (6.242)
Mecca – Saudi Arabia (6.226)
Kaunas – Lithuania (6.225)
Lima Metro – Peru (6.204)
Almaty – Kazakhstan (6.181)
Ljubljana – Slovenia (6.178)
Riga – Latvia (6.175)
La Paz – Bolivia (6.165)
Vilnius – Lithuania (6.163)
Santa Cruz – Bolivia (6.116)
Belgrade – Serbia (6.071)
Tashkent – Uzbekistan (6.040)
Moscow – Russia (6.028)
Asuncion Metro – Paraguay (6.012)
St. Petersburg – Russia (5.994)
Tokyo – Japan (5.989)
Pafos – Cyprus (5.981)
Bucharest – Romania (5.974)
Chisinau – Moldova (5.967)
Seoul – South Korea (5.947)
Shanghai – China (5.936)
Limassol – Cyprus (5.932)
Tegucigalpa – Honduras (5.924)
Nicosia – Cyprus (5.904)
Incheon – South Korea (5.887)
Metro Manila – Philippines (5.810)
San Pedro Sula – Honduras (5.810)
Sarajevo – Bosnia and Herzegovina (5.795)
Lefkosia – Northern Cyprus (5.788)
Algiers – Algeria (5.781)
Thessaloniki – Greece (5.778)
Guangzhou – China (5.761)
Ankara – Turkey (5.749)
Minsk – Belarus (5.714)
Ashgabat – Turkmenistan (5.708)
Tallinn – Estonia (5.679)
Niamey – Niger (5.676)
Lisbon – Portugal (5.660)
Daegu – South Korea (5.646)
Budapest – Hungary (5.642)
Port-Louis – Mauritius (5.616)
Kathmandu – Nepal (5.606)
Dushanbe – Tajikistan (5.601)
Busan – South Korea (5.587)
Baku – Azerbaijan (5.571)
Sofia – Bulgaria (5.563)
Zagreb – Croatia (5.536)
Tripoli – Libya (5.528)
Benghazi – Libya (5.508)
Larnaka – Cyprus (5.485)
Hong Kong (5.444)
Istanbul – Turkey (5.440)
Santo Domingo – Dominican Republic (5.435)
Karachi – Pakistan (5.432)
Bishkek – Kyrgyzstan (5.418)
Caracas – Venezuela (5.391)
Johannesburg – South Africa (5.361)
Athens – Greece (5.345)
Lahore – Pakistan (5.309)
Mogadishu – Somalia (5.304)
Skopje – Macedonia (5.302)
Freetown – Sierra Leone (5.293)
Tirana – Albania (5.285)
Prishtine – Kosovo (5.284)
Amman – Jordan (5.275)
Accra – Ghana (5.267)
Cape Town – South Africa (5.265)
Windhoek – Namibia (5.262)
Dakar – Senegal (5.256)
Izmir – Turkey (5.250)
Beijing – China (5.228)
Hanoi – Vietnam (5.196)
Ulaanbaatar – Mongolia (5.186)
Casablanca – Morocco (5.180)
Ho Chi Minh – Vietnam (5.155)
Nairobi – Kenya (5.150)
Brazzaville – Congo Brazzaville (5.135)
Douala – Cameroon (5.124)
Kyiv – Ukraine (5.051)
Vientiane/Vianchan – Laos (5.037)
Maracaibo – Venezuela (5.009)
Cotonou – Benin (5.006)
Yaounde – Cameroon (4.993)
Conakry – Guinea (4.951)
Libreville – Gabon (4.899)
NDjamena – Chad (4.891)
Lusaka – Zambia (4.884)
Pointe-Noire – Congo Brazzaville (4.880)
Abidjan – Ivory Coast (4.847)
Ouagadougou – Burkina Faso (4.814)
Male – Maldives (4.787)
Tehran – Iran (4.722)
Mashhad – Iran (4.715)
Bamako – Mali (4.662)
Alexandria – Egypt (4.660)
Yerevan – Armenia (4.650)
Kinshasa – Congo DR (Kinshasa) (4.622)
Beirut – Lebanon (4.620)
Nouakchott – Mauritania (4.607)
Baghdad – Iraq (4.557)
Tbilisi – Georgia (4.510)
Yangon – Myanmar (4.473)
Tunis – Tunisia (4.456)
Phnom Penh – Cambodia (4.442)
Gaborone – Botswana (4.442)
Lome – Togo (4.441)
Colombo – Sri Lanka (4.381)
Harare – Zimbabwe (4.355)
Antananarivo – Madagascar (4.348)
Monrovia – Liberia (4.291)
Khartoum – Sudan (4.139)
Kumasi – Ghana (4.133)
Kigali – Rwanda (4.126)
Cairo – Egypt (4.088)
Bangui – CAR (4.025)
Maseru – Lesotho (4.023)
Delhi – India (4.011)
Dar es Salaam – Tanzania (3.961)
Juba – South Sudan (3.866)
Port-au-Prince – Haiti (3.807)
Gaza – Palestine (3.485)
Sanaa – Yemen (3.377)
Kabul – Afghanistan (3.236)
► Return to the happiest country ranking here
► Read the full World Happiness Report here
More rankings and articles can be found in our remote work area:

► Most dangerous countries in the world
► Countries with the best healthcare in the world
► World's worst countries to drive in
► Most peaceful countries in the world
► Best countries for women
► Poorest countries in the world – ranked
► World's most powerful passport
► Countries with the fastest internet in the world
► Most stressed countries in the world
► Most expensive cities for expats
► World's most democratic countries
---
Enjoyed this post? pin it for later…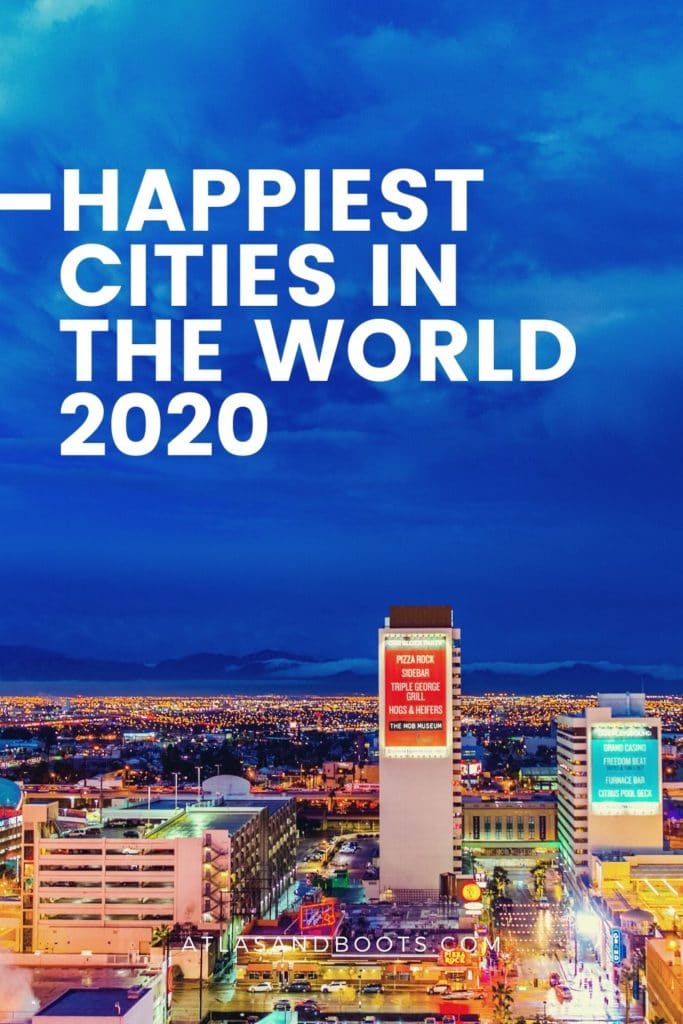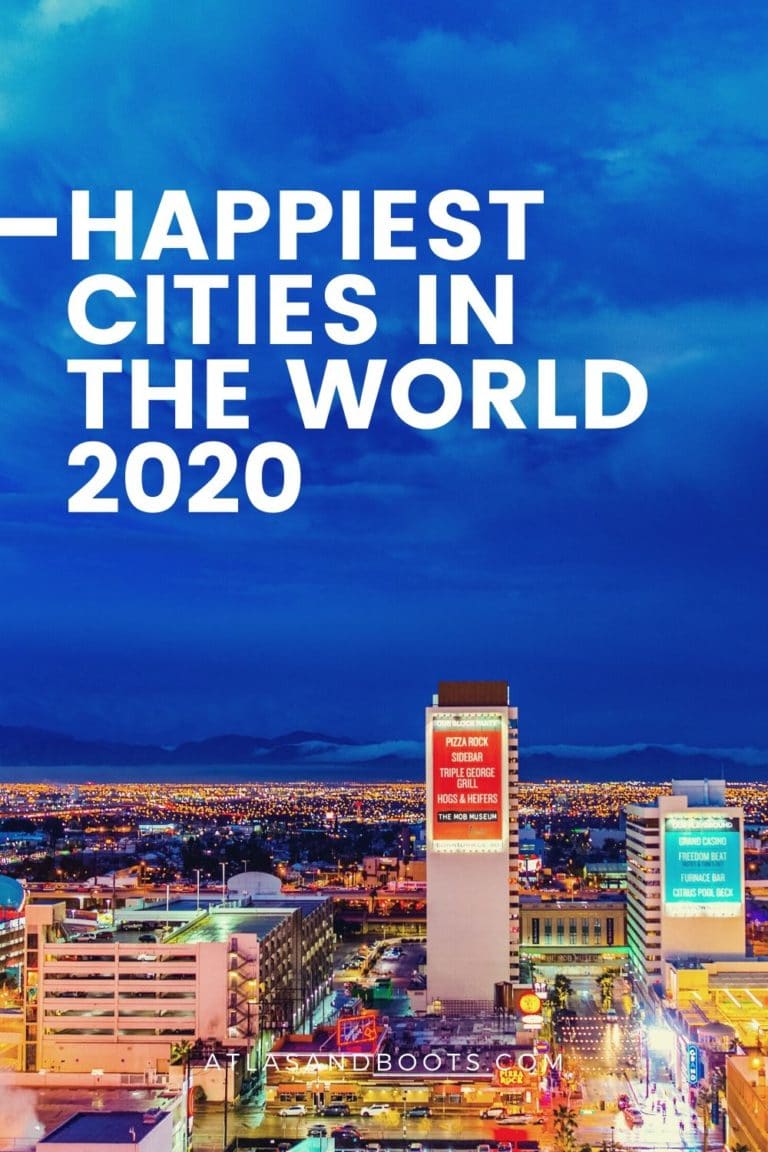 ---